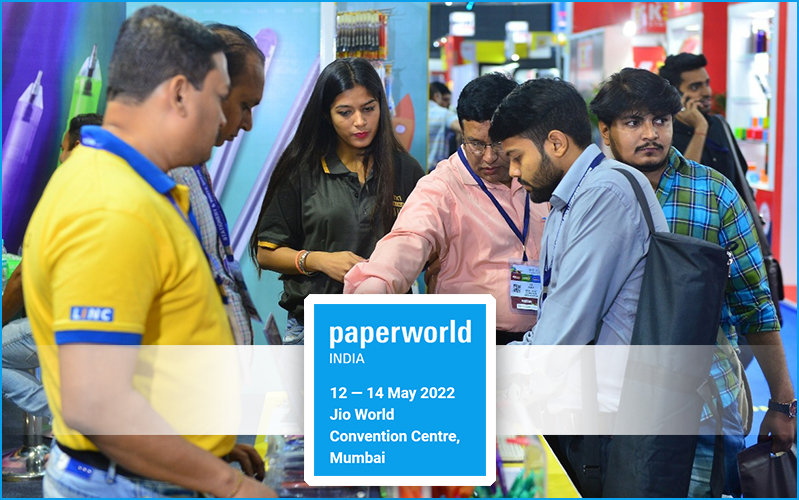 Paperworld India 2022 to Highlight 'Sustainable' and 'Innovative' Stationeries of Tomorrow
05 April 2022: Slated to be held from 12-14 May 2022 at Jio World Convention Centre (JWCC), Paperworld India will open doors for the first time alongside Corporate Gifts Show and Interior Lifestyle India presented by Ambiente India. Reynolds has signed up as associate sponsor of this key business event for the Indian market that will encompass emerging trends and innovative displays in the world of stationery.
Other companies who have confirmed participation at Paperworld India 2022 include Alpha International (Staedtler), Anupam Stationery, Creative Hands (Brustro), FCE Lifestyles (P) Ltd. (Lamy), Global Writings (Supra), Imperial Pen Industries (Legend Pens), Kanin India Ltd. – Kangaro, KD Enterprises (Da Vinci Art Brush & Daniel Smith), Linc Pen & Plastics (P) Ltd. (Linc Pens), Luxor (Luxor, Parker), Mehta Prints Art (P) Ltd., MPI Papers (P) Ltd., Ski Plastoware (Disney) and William Penn (Pennline). Alongside Reynolds, Newell Group will be showcasing products of their marque brands: Dymo, Sharpie and Papermate.
Fueled by a burgeoning young population, India stands out as a highly competitive market for school and office stationery. Despite the rise of digital learning platforms, the Indian stationery industry has grown into an INR4,000 Crore market. Furthermore, stationery trends have continued to evolve over time alongside the changing priorities of consumers.
The alarming concern for the environment has also brought attention to eco-conscious or sustainable stationery. Not only papers but even pens, compass boxes and other writing instruments are being recycled today. This not only contributes to ecological preservation but also allows manufacturers to significantly reduce their expenditure by repurposing discarded products, instead of acquiring new raw materials.
Sustainability is not just a trend but a necessity in today's world. In the stationery industry, recycling and repurposing of paper products are common practices but there is one Indian brand that has taken it to the next level. Participating at Paperworld India 2022, Jalebi is renowned for producing 'Make in India' plantable products, including notebooks, cards, pencils, eye masks and even eco-friendly fatakas (Diwali bombs) that can germinate and sprout into plants after use.
www.paperworldindia.in.messefrankfurt.com