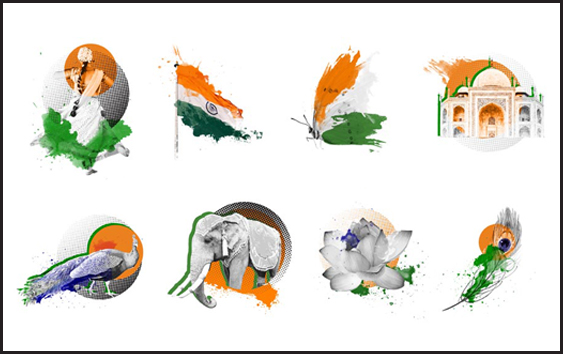 PicsArt's Special Stickers for India's 72nd Republic Day
26 January 2021: PicsArt, the creative platform and social editing app, has introduced a range of special stickers to commemorate the Republic Day of India. The app which is also available in Bengali and Hindi, is currently offering these stickers, and can be downloaded from both the Apple and Google Play stores. The 72nd (seventy-second) Republic Day on the 26th of January 2021 will be unique for India this year. As we fight a pandemic across the globe, and in India too, the nation still remains united in spirit, but with curtailed public gatherings on a day historically marked by celebrations across the country, people will rely on apps such as PicsArt to celebrate the day by staying connected digitally via social media.
PicsArt users will be able to express themselves creatively and wish each other well on Republic Day by sharing customizable greeting messages. The platform's special-themed Republic Day stickers give users limitless ways to add a personalised touch on a day in which every Indian takes pride showcasing their patriotism.
"As Indians, Republic Day is perhaps one of the most important days – not just for those residing in India but for Indians globally. The love that PicsArt has received from its Indian users is unique, and our special sticker pack to mark Republic Day is a humble gesture to thank each one of them," said Ravish Jain, Country Head of PicsArt India. "We are confident that millions of PicsArt users in India will unleash their creativity to celebrate this day like never before."
PicsArt, voted as the 18th (eighteenth) most popular app in the world by Sensor Tower, a market intelligence and insights provider for the global app economy, has remained a massively popular app in India.