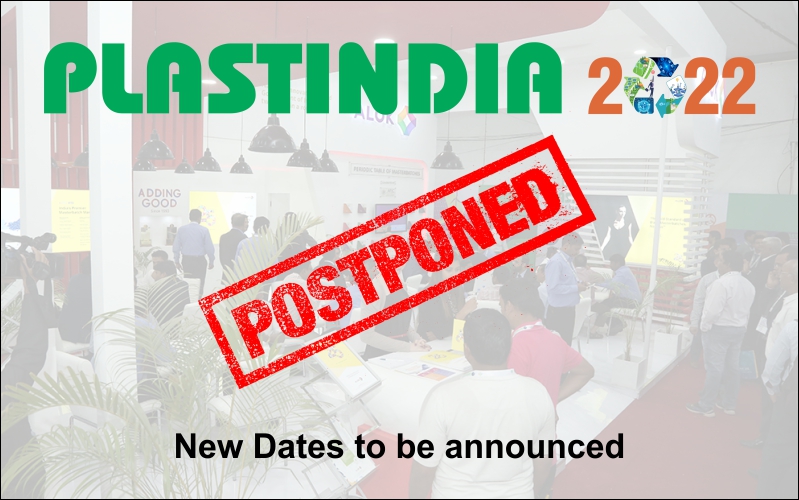 PlastIndia 2022 Show Postponed, New Dates to be Announced Soon
30 October 2021: The postponed 11th edition of the PlastIndia exhibition was re-scheduled to be held from 17 to 21 February 2022 at Pragati Maidan, New Delhi. But the show has been again postponed and the new dates would be as per a notification on the organizers' website.
Earlier, the ongoing Covid-19 pandemic and the consequent health and safety reasons have been cited as the reasons for the postponement of the show. The show was to be held in Pragati Maidan from 04-09 February 2021 and it got rescheduled to February 2022.
Held at Pragati Maidan for many of its editions, the PlastIndia exhibition was moved to Gandhinagar in Gujarat for the last few shows. So, following the opening up of the venues in the re-constructed Pragati Maidan, the show was decided to be held in New Delhi."In his message, Plastindia Foundation's President Jigish Doshi stated that plastics is such a versatile material whose fundamental quality is to protect (bacteria and viruses included) and it is everywhere. This opens up opportunities for a diverse range of applications; be it food, medicine or any other product.
PlastIndia series of exhibitions under the aegis of Plastindia Foundation, provides investors and industrialists with a increasing opportunities to expand their presence. The show covers the entire gamut of plastics producers, processors and users of plastics, and it witnesses intense participation by both Indian and International Plastics Fraternity. 10th edition of PlastIndia 2018 held in Gandhinagar had a footfall of around 2,50,000 with over 1,800 exhibitors from 44 countries.
www.plastindia.org