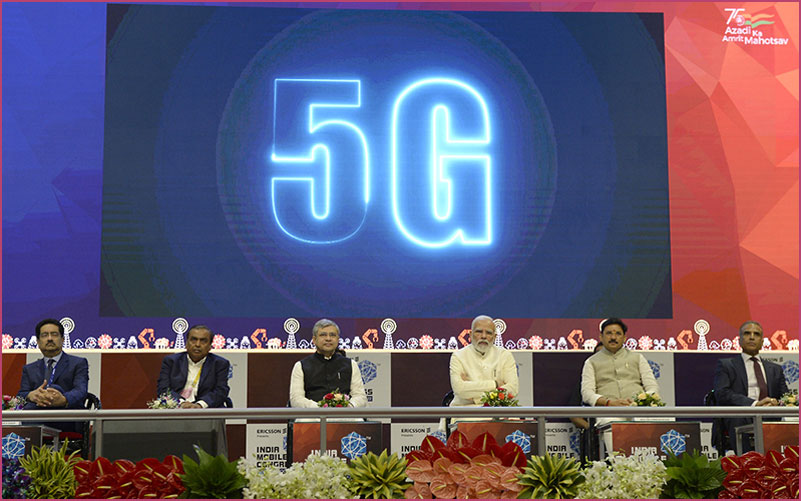 Prime Minister Launches 5G Services in India
03 October 2022: Prime Minister, Narendra Modi has recently launched 5G services in India. He also unveiled various 5G use cases of various Telecom Service Providers in Education, Health, worker safety, smart agriculture etc. He also inaugurated the India Mobile Congress (IMC 2022), Asia's leading technology exhibition, with the theme "Encapsulate, Engage and Experience a New Digital Universe" at Pragati Maidan in New Delhi.
"Earlier, the Prime Minister also launched indigenous 5G NSA Core developed by Centre for Development of Telematics (CDoT) and witnessed various technology demonstrations of enterprise 5G solutions, chipsets, networking equipment developed by Indian telecom start-ups, MSMEs and large manufacturers. This brings harmony with the Prime Minister's vision to promote 'AatmaNirbhar Bharat', Jai Anusandhan and 'Sabka Saath, Sabka Vishwas'.
This milestone unlocks huge possibilities for India with high-tech technology and paves the way to bring transformation in crucial areas including agriculture, health, education, Transport, logistics, smart cities, Industry 4.0 and financial inclusion etc. It may be noted that in the year 2014 there were 02 mobile manufacturing units in the country, whereas presently there are 200 manufacturing units. India is now at second position in the world for manufacturing of mobile and is also a large exporter of mobiles. Country has made a huge progress; in 2014 there were 6 cr Broadband users which has now increased to 80 crore users. Approx 100 GPs were connected with OFC in the country and now more than 1,70,000 GPs in the country are connected with OFC. Moreover, the cost of data has reduced from Rs.300 per GB in 2014 to Rs.10 per GB in 2022.
The 5G services in India were launched at the inaugural ceremony of IMC 2022 which is being jointly organized by the Department of Telecommunications and Cellular Operators Association of India (COAI). With the induction of 5G technology, India's digital infrastructure will become resilient and unravel huge socio-economic benefits.
IMC 2022 expects to witness the presence of around 70,000 participants, 7,000 CXO-level delegates, 300 speakers, and 350 exhibitors across 60+ sessions.