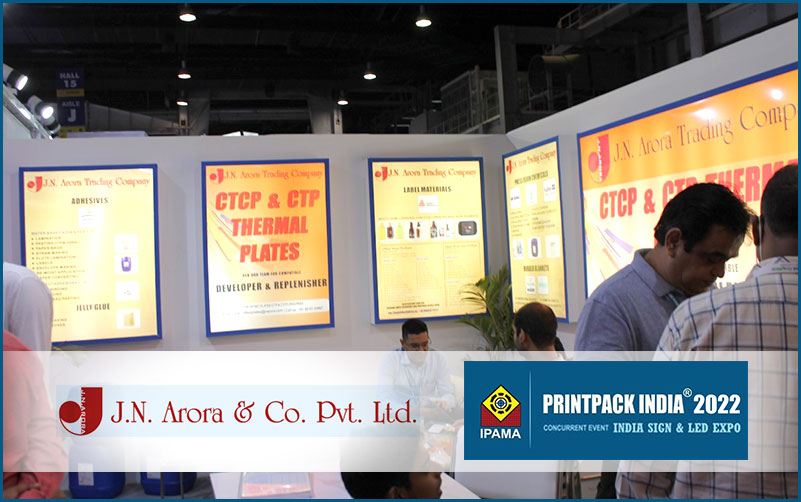 Print Pack India 2022: J. N. Arora & Co. (P) Ltd. Launched Smartjet SJ Crystal and Umrao Vertiprint
30 June 2022: J. N. Arora & Co. (P) Ltd. has seen the printing industry evolve from the letterpress era; to general purpose screen printing, web and sheet fed offset printing; to industrial screen printing and now finally develop into digital printing systems.
Aishwarya Arora, said, "The new launches from us at PrintPack 2022 were the Smartjet SJ Crystal UV Label Transfer Printer with WH+CMYK+Varnish and Umrao Vertiprint with Bed Movement. The response was overwhelming as expected. The gap of 2 years since the last PrintPack had the industry eager for this show."
"We witnessed immense interest in our range of displays for OKI Digital LED Printers, 3M Tape Solutions and UV Adhesive, Konica Minolta-MGI Embellishment System and Avery Dennison Range of Self-Adhesive Labels for Digital, Offset & Flexo Printing Applications. As always, we have been adding newer products to our portfolio to cater to evolving needs of our customers and in future also we will keep adding newer products for the growth of our customers," she explained.
JN Arora Group currently has a workforce of more than 200 people working across 11 locations in India; in the New Delhi region at Patparganj, Chawri Bazar, Naraina, Okhla and Bawana; in the Haryana region at Gurgaon; in the Uttar Pradesh region at Ghaziabad, Noida and Meerut; in the Punjab region at Ludhiana and in the Telangana region at Hyderabad.
With the able leadership of Rajiv Arora, Group Chairman and Vimlesh Arora, Managing Director, they strive to achieve excellence in customer need satisfaction and justification of their product portfolio to all suppliers alike. Sanjiv Arora, Director and Arun Bhanot, Director with their wise inputs and guidance and Aashish Arora, Director and Dipeesh Arora, Director believe in the right execution of the marketing strategies.
www.jnarora.in