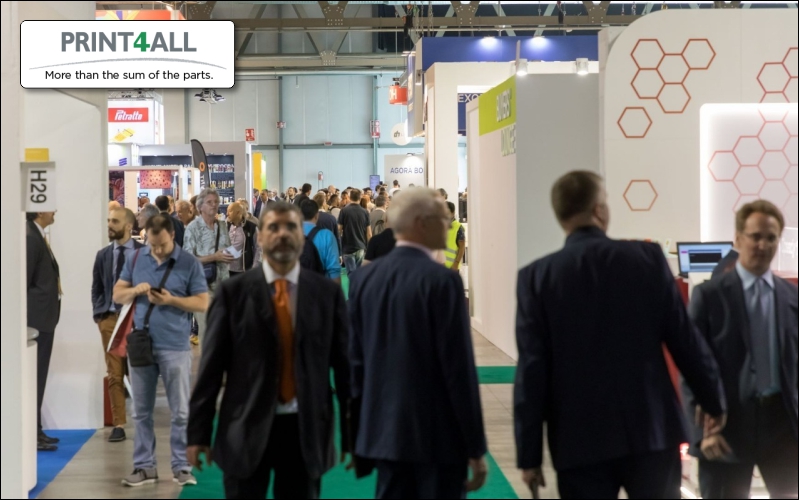 Print4All 2022: The Offering is Reinforced
03 February 2022: The market renews its faith in Print4All, which will be held at Fiera Milano from 03-06 May 2022 and will be attended by a number of leading brands, highly representative of every "soul" in the sector.
There will be a strong presence from the converting world, thanks to manufacturers of the calibre of IMS Technologies, Rossini and Uteco. There will also be presentations from the cardboard sector, such as Fosber and labelling, represented by Omet, among others.
On the printing front, the following internationally renowned brands has been confirmed: Canon Italia, Epson, Kyocera, Koenig&Bauer and Neos, promising a rich and interesting proposal for printers, creative people and brand owners who will visit the event in search of new proposals and technologies able to offer original and, above all, increasingly customised solutions.
Print4All therefore promises to offer a wide-ranging showcase of the most innovative products available today for converting and printing. The main focus of the entire offer will be innovation, with increasingly digital and connected solutions, combined with a constant search for sustainability. Energy efficiency, servicing, increasingly high-performance hybrid solutions, green products, increasing care in the selection of materials and in end-of-life management are the strong points of an offer that combines great attention to customer needs with growing environmental awareness.
Online Printing, Cardboard, Laebelling: Special Areas at Print4All 2022
There will be three themed areas created to encourage a vertical analysis of sectors that are showing great dynamism and have important development opportunities: online printing, which makes it possible to aim for increasingly strong personalisation even on small runs; cardboard, a market with great development potential linked to its natural green vocation and the growing development of e-commerce and labelling, a sector that is experiencing rapid evolution, driven by the demand for increasingly innovative, smart and personalised solutions.
The event with Print4All and The Innovation Alliance will take place from 3 to 6 May 2022 at Fiera Milano.
www.print4all.it