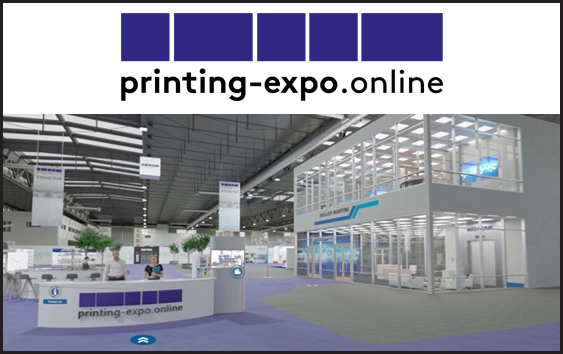 Printing-Expo.Online: Dont' Let Reality Hold You Back
16 February 2021: Over many months now, companies and individuals in our industries have been looking with some alarm at all the cancelled exhibitions and events and asking themselves what now ? Where do we go from here and what are the options ? Many OEMs and suppliers had spent a lot of time and creative energy designing a new exhibition stand. Many had product launches prepared and new machinery waiting in the wings with staff at the ready to promote the company's latest innovations. Visitors had set up itineraries and made travel plans and booked their accommodation. The printing industry was gearing up to meeting and greeting old and new friends and looking forward to seeing the latest developments in action and hearing all the latest industry news.
Many companies have adapted and revisited their strategies and rewired their plans. There are a few still holding fast until they see what develops but the majority are moving forward fast and grasping new opportunities to engage with their customers through social media channels, websites and media publications. Some are looking at exhibitions online!
You may be thinking an online exhibition can never replace a live event – that live events are bound to come back, and you will tread water until then. Well okay, but why not take a look at printing-expo.online and see if in the meantime you can bridge the gap ? This is an online exhibition that is different from the rest – it's a unique 3D visual browsing experience. The technology is cloud based and ahead of the game. This is not a series of web pages or videos filmed on an iPhone where you have to click in and click out. This is the real deal! It is also environmentally friendly and cost effective, exciting and easily accessible. Printing Expo's virtual exhibition provides a unique showcase for any company's products and services in an arena that is branded and stylised specifically for them.
For visitors it's an exciting and new way to see and hear about the latest industry innovations and technologies. Every visitor is a VIP. For exhibitors and their marketing teams, Printing Expo is a unique opportunity to adapt the stand they already have into a fully interactive 3D online model or design the stand of their dreams with creative concepts, a diversity of architecture and private and public spaces. With Printing Expo's immersive online 3D visual browsing experience, exhibitors can engage with visitors by populating their stand with a range of interactive content, demonstrations and 1-1 opportunities where they can answer questions and give business advice. This is an opportunity to fulfil plans and move forward.
At Printing Expo, companies can invite the media to exclusive press conferences in the dedicated auditorium. For the media it's the perfect way to keep up to date with all they need to know about the movers and the shakers in our industries without leaving the office. They can Pin the Tab on their devices, join the conferences and keep up with the latest updates anywhere, anytime!!