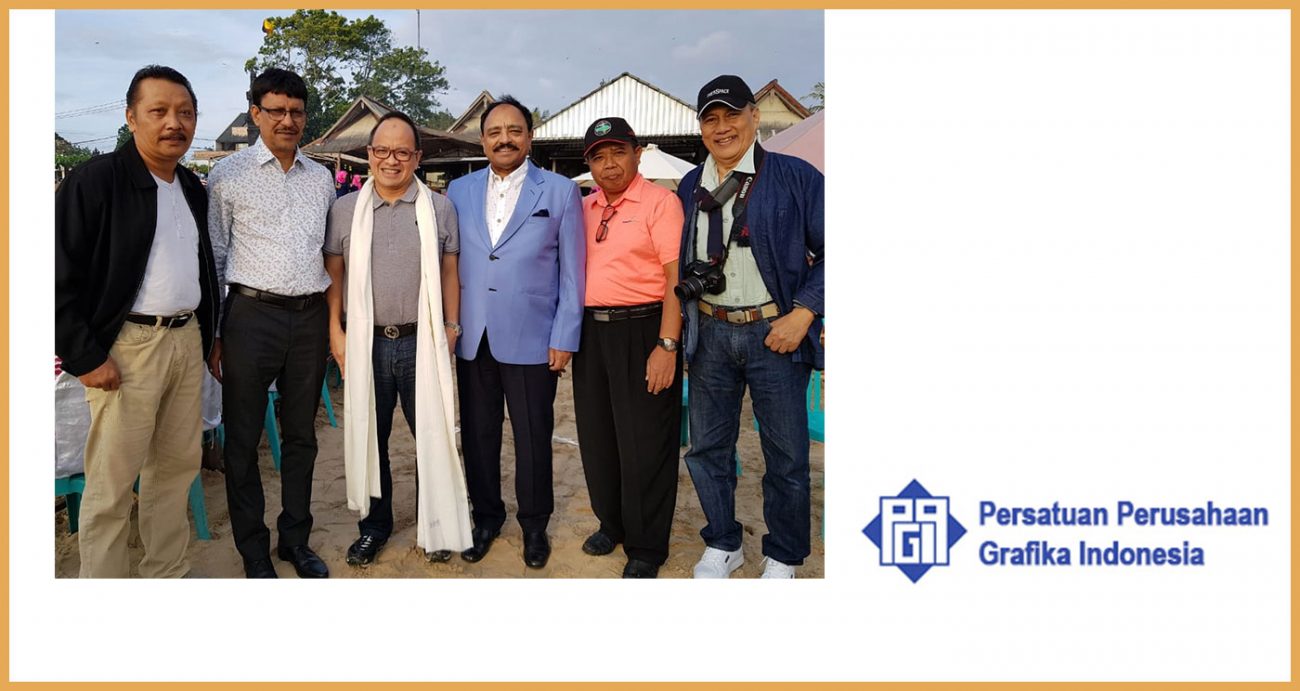 Printing in India & Indonesia growing at same ratio
The Indonesia Print Media Association (PPGI or Persatuan Perusahaan Grafika Indonesia) organized welcome dinner in the honour of Prof. Kamal Chopra at Queen beach Bali, Indonesia on 14th July, 2018, Chairman of Bali unit of PPGI was also present on the occasion. Mr. Ahmad Mughira Nurhani, President of PPGI specially came from Jakarta to welcome Prof. Chopra at his maiden visit of Bali.
Prof. Kamal Chopra discussed the present situation and future trends of printing in Indonesia during this meeting. Giving the outlook of Indonesian printing industry, Mr. Ahmad Mughira Nurhani said, Indonesia has the largest economy in Southeast Asia. The country boasts a population of 240 million, the fourth largest in the world. The Indonesian economy has grown steadily over the past decade as a result of high demand for exports of its consumer goods and industrial products. There are currently 28,910 printing enterprises in Indonesia, employing nearly 322,000 people, and with an annual output of 177 billion sqm. The export value of its printing industry is USD 216 million and imports are valued at USD 155 million. The growth rate of Indonesia's printing industry is almost equal to that of the country's GDP, between 6 – 7% annually.
Highlighting the packaging and paper industry, Mr. Nurhani said, the growth rate for Indonesia's packaging industry is approximately 6.3% – higher than that of the country's newspapers and magazines. For printing techniques, web offset printing and sheet-fed offset printing account for approximately 80% of the total output value of Indonesian printing. Flexography accounts for 7% of Indonesia's total output value and, while this is low in comparison to the figures for traditional printing techniques, digital printing is experiencing a period of high growth so this figure should catch up over time.
He said, the technology used mostly manual and conventional. The Printing industry of Indonesia is well supported by paper industries as suppliers of main raw materials for printing. Indonesian paper industries in the contrary to the printing industries are the big one. But these industries are not built based on the research, and there are not regular research activities, except for the very big paper mills. Center for Pulp and Paper tries to cover the lack of research activities in the industries which the topics range from raw materials up to the products.
Prof. Kamal Chopra highlighted that almost similar growth in printing is noticed in India. In India we have approx. 250,000 printing companies employing more than 3000,000 people and contrary to printing the Packaging industry is growing at more than 12 per cent. Mr. Ahmad Mughira Nurhani agreed for exchange of idea and close networking with India. He accepted the invitation of Prof. Chopra to visit India for the inauguration of InterPrint Expo India at Chandigarh on 14th of December, 2018.