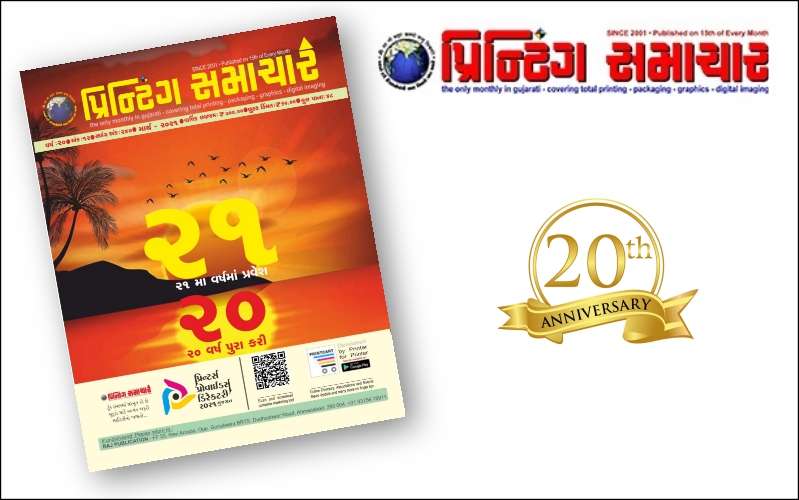 'Printing Samachar' completes 20 years of Publication
18 April 2021: Devang Sheth, Publisher, SPI magazine congratulates his friend Narendra Parmar on this significant milestone. It gives me great happiness to note that 'Printing Samachar' has completed two decades and is entering its 21st year of publication. The fact that a monthly printing magazine in Gujarati language has achieved this milestone is a matter of pride for the entire community. 'Printing Samachar' provides up-to-date news, latest product information and interviews of leading printing personalities of Gujarat every month.
For a technical publication to survive over the years is a very difficult task. Your active enthusiasm and efforts for printing industry upliftment have made all the difference.
You were bold enough to venture with PrintPackSign Expo in Ahmedabad in the year 2000, 2002, 2005, 2008, 2012, 2014, 2015 (Print Consumable Expo), 2016 and 2017 (In Surat) and in Raipur (In 2018) with Chattishgarh Printers Association. In 2018 you organised 'Reach to Root' Moving 1 Day Printing Expo in 14 towns of Gujarat. This highlighted the Gujarat printing industry on national level. News covered in your magazine about various state and regional printing, paper related associations of Gujarat has also helped them to reach national level and AIFMP organised GC Meeting & Conference in Baroda in 2017.
With active support from your wife Priti and son Raj, you have moved towards digitalisation and launched e-magazine and Printers App. – Printcart. Your active participation/exhibiting in most of the trade fairs in India related to paper, printing and publishing industry is also a matter of pride for Gujarat printers.
As you have studied Printing Technology from R. C. Technical Institute, Ahmedabad and worked with leading printing consumable companies in marketing (screen and offset) and travelled over Gujarat/ MP/ Rajasthan for 10-12 years, you can be described as a 'Living Encyclopaedia of Central India Printing Industry'.
Our association dates before the inception of the magazine (more than 25 years); interacting with you has always been a knowledge sharing experience. You are also a publisher of 'Gnyati Jyot' Community Newsletter from last 8 years. You have helped 8-10 associations to be formed in printing industry in Gujarat.
Recognition and plaudits …..
For your selfless service to the printing industry, you have been honoured:
# 'Print Shree' by NIPA, Ludhiana (Best Regional Printing Journalism)
# 'Best Regional Language Printing Magazine' by AIFMP at Chennai in 2012
# Felicitated by Ahmedabad, Rajkot, Bhavnagar, Baroda, Mehsana and Nadiad Printing Associations.
printingsamachar@yahoo.co.in