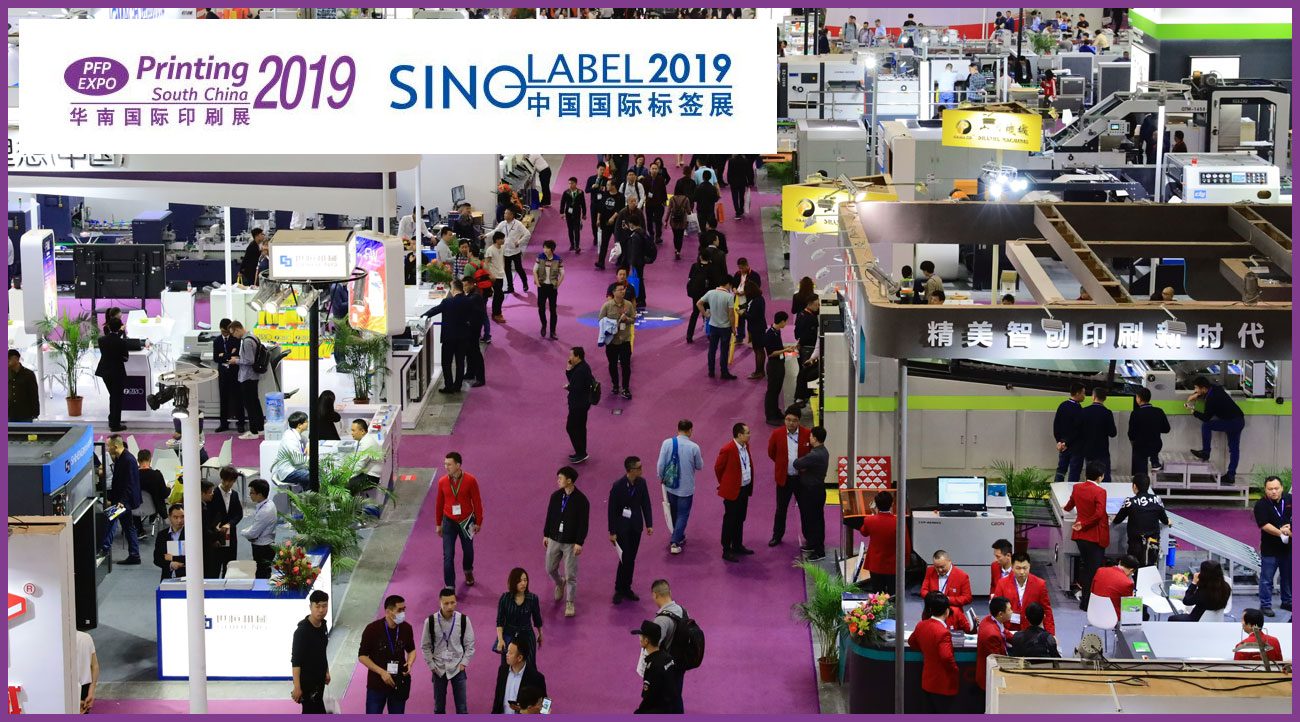 Printing South China & Sino-Label 2019 Opens in Guangzhou
04 March 2019, Guangzhou, China : The 26th South China International Exhibition on Printing Industry(Printing South China) and the China International Exhibition on Label Printing Technology (Sino-Label) grandly open today till 6 Mar at Hall 1.1, 2.1, 3.1, 4.1, 5.1, Area A, China Import & Export Fair Complex.
Innovative Technologies in Eight Thematic Zones 
Smart Post-press and Packaging Processing Zone, Green Flexo Printing Zone, Specialty Paper & Packaging Materials Zone and Corrugated Zone in Printing South China (Hall 3.1-5.1), together with Digital Label Zone, Green Label Materials Zone, RFID Smart Label Zone and Label Printing Equipment Zone inSino-Label (Hall 1.1-2.1) gather well-known exhibitors from all around the world. Over a thousand of exhibitors (some exhibitors are introduced in the appendix) demonstrate new machines, share cases of different applications and launch new products on the spot. There are cutting-edge products, top-notch technologies, latest development trends and new design concepts in the exhibitions.
In addition, under the "Consumables Discount Program" held in the exhibition, a strong lineup of consumable suppliers offer a wide variety of cost-effective products with competitive price. Many buyers have successfully purchased materials that are suitable for their production and cost-saving needs.
Forums and Display Zone Concurrently Held in the Exhibitions
Forums covering packaging printing materials, RFID applications, CMF, flexible packaging, digital packaging and green packaging are well received by audience today. Attendees overwhelmingly discuss with professionals and industry representatives to obtain the latest market news for tapping in vast business opportunities. In addition, visitors have an eye-opening journey in the display zone of "The 30th Hong Kong Print Awards".
More forums are coming tomorrow, covering hot topics of intelligent printing, lower cost & small order solutions, anti-counterfeit intelligent tracing technology, etc. The "2019 Seminar on Development Trend of Green Catering Take-away Packaging" in Sino-Pack, the concurrent packaging exhibition, taking place in Hall 5.2, will gather management and merchandising representatives from over a hundred of enterprises in the food and beverage industry, including the online food delivery platform Ele.me, Real Kungfu Catering, Yonghe King Fast Food, etc. Packaging material suppliers and packaging printing enterprises are encouraged to join the forum to learn about the needs of catering industry.
Concurrent Packaging Fairs with International Exhibitors
Two packaging exhibitions, Sino-Pack and PACKINNO, are held concurrently with Printing South China and Sino-Label, featuring five thematic zones namely Packaging Products & Materials, Smart Packaging, General Packaging, Food Packaging and e-Delivery & Logistics. It is the first time for the Italian Network "Processing and Packaging the high-tech Italian way", brings world-class packaging and processing equipment and technologies, and European Pallet Association E.V. (EPAL), shares the future development of intelligent pallet, to exhibit in the fairs.
Two More Days to Visit the Fairs
Thousands of professional buyers from over 90 countries and regions, and over 200 delegations from home and abroad attend the fairs today. Overseas delegations include Graphic Arts Association of Hong Kong, Malaysia Printers Association, Mongolian National Chamber of Commerce and Industry, Philippine Center for Print Excellence Foundation, Philippine Printing Technical Foundation, Printing Industries Association of the Philippines, etc, while there are mainland delegations come from over 40 printing, labeling, packaging associations. In addition, many leading printing and packaging enterprises in China form groups to participate in the fairs. 
The fairs take place for two more days till 6 Mar, visitors are welcomed to join the fairs with tens of thousands of industry players !