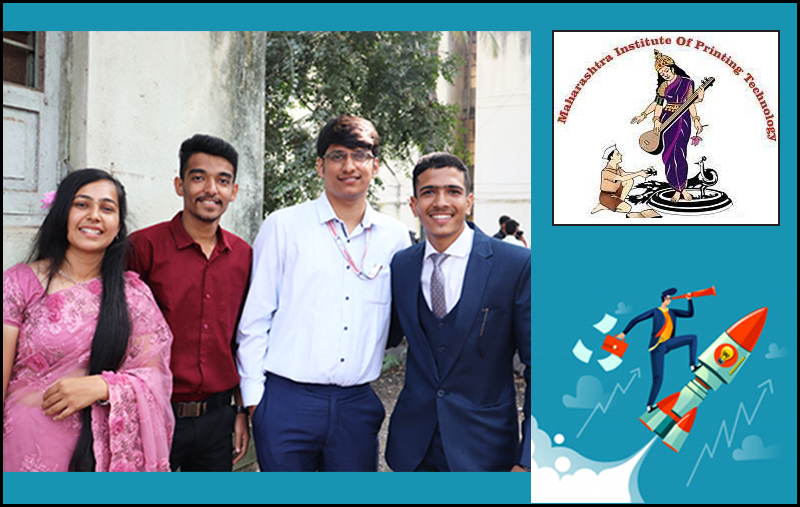 Printing Students of PVG's College of Engineering : Best wishes for a bright future !
17 December 2020: Prof. Shubham Kharat, Printing Dept., PVG's College of Engineering & Technology, Pune analyses the future of printing industry after COVID-19 and gets some of the students share there views. 
The COVID-19 pandemic has been a very bad time for whole world. Not only for the print industry but also for final year engineering graduates who were about to enter in the print industry to begin their career as printing engineers. During the lockdown period with students were connected with industry on digital platform by attending webinars on various industrial topics organized by Screen Print India. Many of the topics were really proved helpful to the students who started with their career in print industry.
At the same time students studying at third year have adopted this online teaching system as a part of their curriculum. We are thankful to all the print industry and the experts who are helping to the young graduates about the print industry with this digital platform. We are looking forward with the end of this pandemic with all the positive vibes around the globe. Here's wishing all the very best to the young printing graduates to make the best career by entering in the industry throughout the nation.
Read on for views from some of our students:
Premkumar Bholankar: With the COVID-19 outbreak anxiety and depression are common mental health problems experienced by university students. Under these circumstances, I was lucky enough to get the appropriate guidance by our teaching faculty and few industrial experts about the situation and helping me to carve a path towards a better future. Before the lockdown started, I was on a verge of joining a printing industry in Mumbai. But after the outbreak everything was on hold. And who would have thought that this would last for 8 months. All this time we students were in complete limbo, it gave me chance to think about my post graduation. And as the time passed, all the guidance given by industrial experts gave me enough confidence to pursue this. Changing the field from printing to packaging was not an issue for me as packaging is a rapidly growing field and all the knowledge about the printing technology that I have gained can be useful for packaging.
Rohit Chavan: Final year began very smoothly and was going on very well. As the year was about to end, suddenly there was an outbreak. Initially we enjoyed the lockdown and considered it as a holiday to prepare for our exams. Because of the continuing situation, colleges decided to start lectures online. Initially it was fun but then these online lectures were very difficult to cope up with. Alongside was going on the huge discussion on the final year exams. Finally a decision was made and the exams were announced. These created a huge impact on life because due to this there was a great confusion about starting a job or to be an entrepreneur in the industry.
Rutuja Mahindrakar: We were jittery about the examinations, as it had been a long time since we studied and were not able to recall it. We were not stable to make a decision of joining the company or not because of having a doubt in our mind that if we join the company how would we get time to study? I recently joined as an Graduate Trainee Engineer in Hi-Tech Inks Pvt. Ltd., Vapi. The industry has welcomed me with great enthusiasm and I am really very thankful to my company and my teachers for marvelous support and helpful nature and for grooming me in all aspects of the technical knowledge and industrial revolution of 4.0 version. I am really thankful to my parents for their continuous moral support and motivation to make me work with the industry.
Atharva Datar: In the first stage, the lockdown was announced in the mid-week of March for all colleges and for students it was a holiday or a preparatory leave for the last semester. Initially we got excited about it that we got a break from all the submissions and vivas, the project, and the lectures which we every time wanted to enjoy the utmost college days. But then as the lockdown became extended, colleges decided to have online lectures and conduct all practical and vivas in a virtual way. That became more relaxing but also there was a fear that we could not ask a doubt as in ease in the way that was asked in a classroom. In a way it was just starting the lecture and scrolling on social media sites, but this way of education would be going to be carried on further for the upcoming batches. A debate began whether to conduct the last year examinations or to pass them, later on the months went off with lockdown and the decision of exams kept on being delayed in the courts. After completing the final year examinations I got an opportunity to work as a Development Trainee Engineer with M-Tech Innovations Ltd. which deals in industrial and automotive screen printing sticker and label manufacturing products. I am really very thankful to my company as well as to the printing industry for such a great welcome they offer to me to groom myself in the industry.
Abhishek Raskar: Being a final year engineering candidate in the printing department requires a lot of preparation, thought process and time and suddenly we all came across the COVID-19 pandemic. Final year students across the nation were struggling with many problems due to the COVID-19 situation, it kept adding more stress. We were all fully aware of the difficulties our students faced and unaware of further conditions after lockdown. In this condition the teaching staff contributed to build our skills and give some additional time to ourselves. The other problem which every graduate student faced is what will happen to the classes we are taking, our research projects and the academic work we completed during lockdown. However our department had already decided on how we can complete our written and oral exams from a distance. At such a time, the final year academic student can feels disconnected but students realized their dependence and goals, which we planned years ago to achieve. We have a lot of work to do in a short time. But as lockdown extended it was a long break and a strange time for me and also for others. There was also a lot of work to do in the house or outside. We had to somehow stay mentally strong with and prepare for this challenging future. But this moment also offered us opportunities. We also had to rethink about our future decision seriously after knowing our abilities. And once we move on towards our goals to take decisions accordingly.