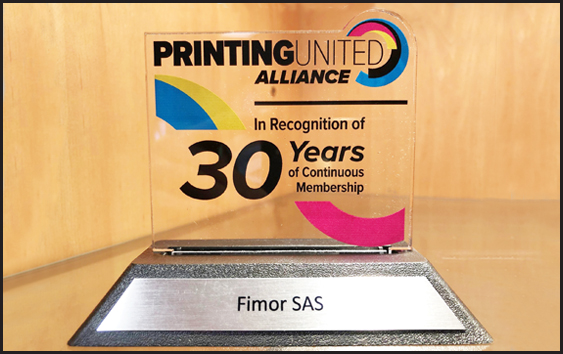 PRINTING United Alliance honours FIMOR for 30 years continuous membership in SGIA
21 February 2021: FIMOR was recently honoured by PRINTING United Alliance (formerly SGIA) for their 30 years continuous membership. For FIMOR, it was yet another historic commitment and in the world of screen printing.
FIMOR is a leading manufacturer of polyurethane sheets, custom molded parts for all industries and screen printing squeegees. The company has a long history of contribution to the industries in which it is active and specially in the field of screen printing. FIMOR is a continuous member of several key international organizations such as: ESMA, SGIA, SPTF, ASPT, etc. FIMOR's Chairman Alex Zuckerman was Chairman of the ASPT and he is still an active member of the academy, a part of erstwhile SGIA. He was also the vice-president of the ESMA until 2001.
FIMOR is part of a French family group, created in Paris in 1977. In 4 decades, the company has developed the world's best-known and best-selling brand of screen-printing squeegees, "serilor distributed through a network of 200 distributors in more than 80 countries. FIMOR is now present in 4 countries and on 3 continents (China, USA, France) through production sites and offices. The group has more than 130 employees.