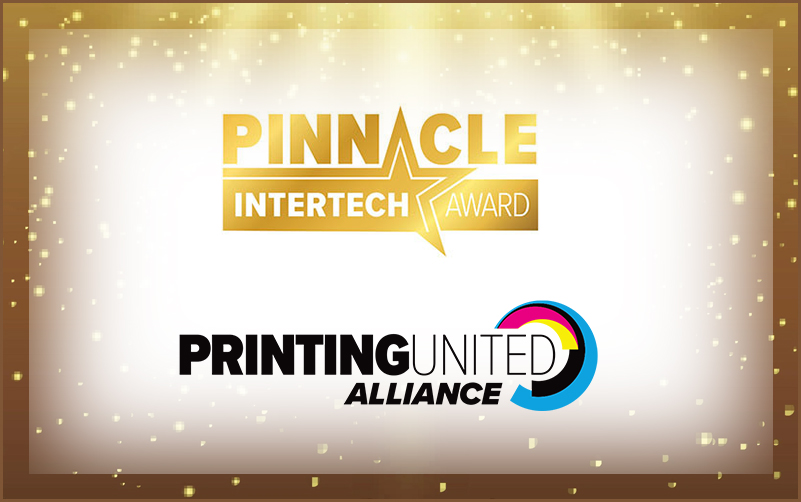 PRINTING United Alliance Names 2022 Pinnacle InterTech Award Recipients
16 September 2022: PRINTING United Alliance, the most comprehensive member-based printing and graphic arts association in the U.S., today announces the recipients of the prestigious Pinnacle InterTech Awards Program. Award recipients from across industry segments are being showcased in the online gallery, which can be found at intertechentry.printing.org/gallery. Those attending PRINTING United Expo this October 19-21 in Las Vegas will have the opportunity to see some of this award-winning technology in person.
The PRINTING United Alliance Pinnacle InterTech Awards Program recognizes best-in-class products created for and by the printing industry. The Pinnacle InterTech Awards are open exclusively to PRINTING United Alliance supplier members and, this year, judges selected seven award recipients.
The Pinnacle InterTech Awards exemplify new technology that is deemed by veteran industry judges to be truly innovative and likely to have a significant impact on printing and graphics companies. The seven technologies selected to receive a 2022 Pinnacle InterTech Award are as follows (listed alphabetically by company, with the technology named first):
Barbieri Electronic for Barbieri Spectro LFP qb textile edition

Canon Production Printing for Canon FLXfinish+

Design 'N' Buy for DesignO

Kodak for Magnus Q4800 Platesetter

Vivid Laminating Technologies for VeloTaper

W+D North America for W+D BB1000

X-Rite Pantone for Mantis Video Targeting Technology
"The Pinnacle InterTech Award program celebrates the inventiveness of suppliers and recognizes technology advancing our industry," says Dawn Nye, program manager, PRINTING United Alliance. "The judges had the tough task of singling out breakthrough innovations from many excellent entries. We congratulate all who participated and those who were designated with this award."
www.printing.org/join