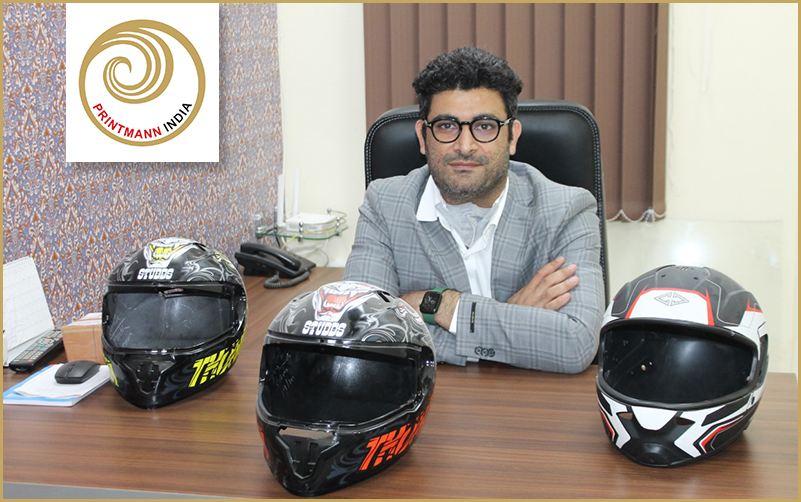 Printmann India Diversifies into Automobile Decals and Completes Further Expansion
27 September 2022: Kunal Kubba, Managing Director of New Delhi based Printmann India, originally a manufacturer of ceramic decals, is seizing big opportunity in the automobile decals segment. The company, which diversified into automobile decals business about 2 years ago, has completed its major expansion project by installing a cylinder press with a new wicket dryer in their Unit No. 2 (10,000 sq.ft) at Bawana Industrial Estate, New Delhi. This is in addition to the other printing infrastructure already in place such as 4 camshell screen printing machines and one 4 x 8 ft screen printing machine along with complete advanced screen making set up.
These major investment is also the testimony to the growing might of the advanced screen printing technologies and its diverse applications."Revealing his strategy behind the company's diversification from ceramic decals into automobile decals, Kunal Kubba asserts "During our introspection, in the aftermath covid-19 crisis, we finally decided to have more than one line of business and balance the entire revenue basket. While the ceramic decals sector was moving flat for the last 2-3 years and competition was thickening, we also witnessed that the automobile decals sector was growing up and up. And our investment was timely and it is paying rich dividend. And immediately after our entry, we had to expand in a big way."
On the management of two different decals plants, Kubba asserts "We have a well committed plant heads in both units and I divide my time for overall management of the factories."
Printmann India, an ISO 9001:2015 certified company, was originally founded in 1975 as Sanjaya Enterprises by Raj Kumar Kubba. Sanjaya Enterprises had an uplift in 2008 by Kunal Kubba and got remodelled as Printmann India to manufacture Ceramic Decals, Glass Decals, Helmet Decals, Vinyl Stickers, Dome Labels and Static Vision Films. The plant has Cutting Edge Machinery line up, Highclass Laboratory, ETP (Water-Treatment Plant). The company manufactures waterslide decals, in particular models – peelable and non-peelable cover coats. They have designed a new range of colors, which are vibrant and are available in metallic shades. Also, the decals overcoat is flexible and can be stretched to better fit the product.
"Our 47 years of experience in this field gave us an extra edge in the market and it helped us with building a vast network in this field," says Kunal, adding, "We are operating with 2 printing units with covered area of 10,000 sq. ft. We are having one of kind largest printing machine that prints the decals of 8ft x 4ft in single stroke."
www.printmannindia.com