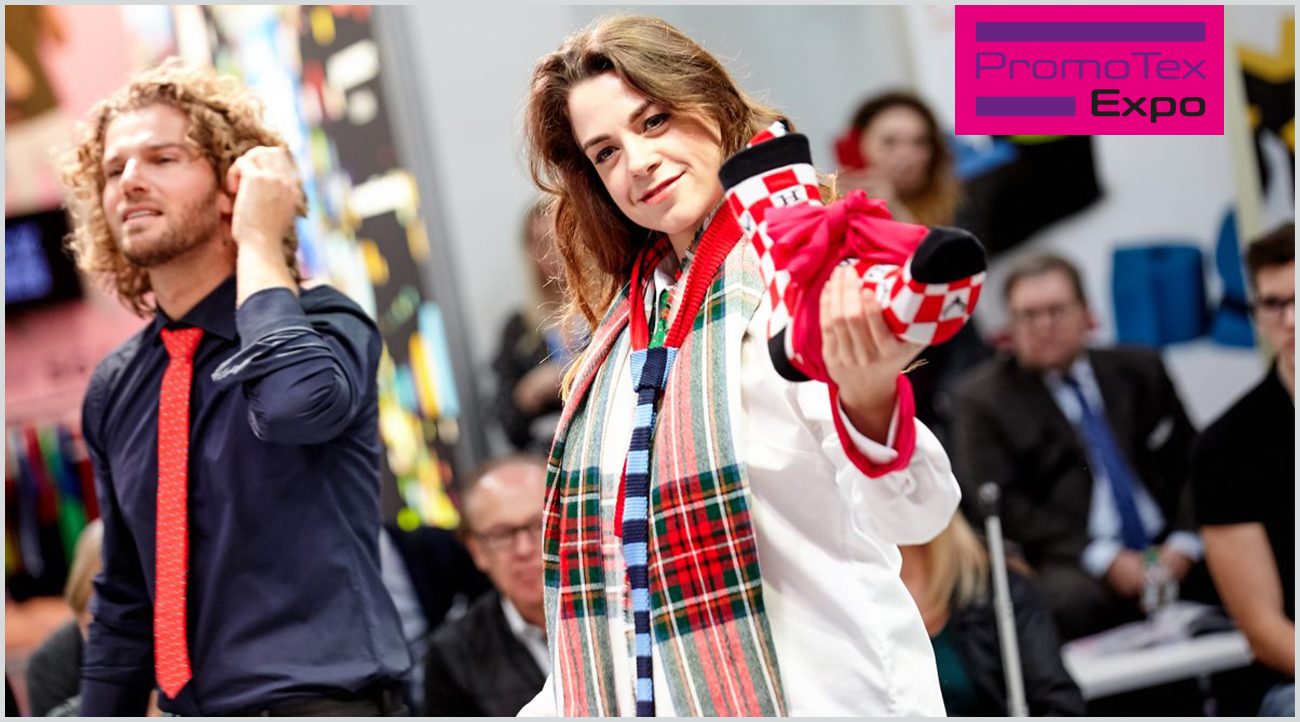 PromoTex Expo 2019: textile vendors kick off the new business year
PromoTex Expo, viscom and PSI showcase the complete world of advertising and selling
Be it as workwear, for promotional purposes or for enhancing sportspeople's experience: textiles are the stars at the new PromoTex Expo. As the annual kick-off event it will open the new fiscal year for this industry in the fashion capital Düsseldorf from 08-10 January. Advertising, promotion and sport textiles suppliers will present innovations, bestsellers, smart and sustainable product highlights. A host of side events as well as the two trade shows held concurrently, viscom and PSI, round off the trade show visit for textile professionals.
In January Hall 13 will become a textile industry hot spot for three days. Such enterprises as Gildan Activewear, the Falk & Ross Group Europe, HERKA, ID® REXHOLM, KARIBAN FRANCE, Regatta Professional, MAPROM and Stormtech Europe have reserved their exhibition stands here. They will present their latest collections and machinery to textile finishers, promotional products distributors, sign makers, designers, textile experts and agencies.
Textile Campus showcases sustainable and smart textiles
The Textile Campus is the centrepiece of the PromoTex Expo. Two themes are in focus here in particular: smart textiles and sustainable textiles. The University of Niederrhein, the Competence Centre 4.0 (textil+mode), Lunative, ZSK Stickmaschinen and SmartTex-Netzwerk will demonstrate what state-of-the-art smart textiles can already do today and what will be possible in the near future. In terms of sustainability information on the current requirements and challenges will be provided by the Fair Wear Foundation, TÜV Rheinland, Bremer Baumwollbörse, RK Textil, the Hohenstein Institute and University of Niederrhein. Also represented here will be Bianca Seidel Consulting and screen-printing expert Charlie Taublieb, supported by Alexandra Graf von Borchert + Moller, ink supplier CHT and sponsored by M&R.
Catwalk stages new collections
At the Catwalk all trade show visitors can see for themselves what the latest textile trends look like in action. Here professional models will be creatively staging high-promotion fashion four times a day. Presented on the runway will be Fifty Five as an outdoor wear supplier, Sport Böckmann as a sportswear supplier and Ted Bernhardtz as a workwear specialist, to name but three companies. High-quality shorts by Ernst Alexis, neckties, scarves and shawls by Club Crawatte and textiles finished by Lynka will also be put to the test on the catwalk.
Fashion highlights are also centre stage in the PromoTex Expo "shop window" where the exhibitors' best products will be displayed in a fashion pool.
Know-how related to the entire value chain is transferred
How do you develop innovative solutions for the fashion and textile value chain as a whole? What does the new PPE Regulation mean for the companies distributing workwear or corporate fashion in the B2B segment? What are currently the Best Practices in the booming high-tech Smart Textiles market segment? What are the current stumbling blocks and solutions for sustainable textile printing? These and other questions will be addressed at the new Forum 13, which can be found at the PromoTex Expo.
Marketing decision-makers, creative workers and designers will also receive current information on new strategies, merchandising and licensing issues as well as advertising at the POS at the Forum Marketing Innovations. The lecture themes here read as follows: "Sustainability turns from a nice-to-have to a must-have. EU Reporting Duties for Sustainability!" "Camouflage – Catch the Eye with Camouflage!" or "Stylish! Positioned! Loud! Special Brand Formats Conquer the Advertising World."
Hands-on experience at viscom
Visitors will benefit from not just one but three trade show experiences. Their admission tickets are also valid for viscom, Europe's Trade Show for Visual Communication, which boasts a specific exhibition area for "Textile Finishing Technology", to name but one. The ideal way to get to know viscom is two specifically compiled routes. Maps for these routes can be picked up at all entrances. Route 1 entitled "Go for It" guides visitors to the new viscom Fanshop, where caps are embroidered and T-shirts, gym bags or wooden blocks are printed on. Exhibitors such as Melco and Forever then demonstrate live at the next stop how the embroidery ends up on the cap or how a design is generated using the T-Shirt-Generator.
Route 2 is labelled "Discover your Opportunities". At the first stop an introductory lesson will answer such questions as: "Is it worth looking at new themes such as interior design and textile finishing? How big is the market? What opportunities does it hold for me? What do I need for this?" Furthermore, trade show visitors can discover a colourful panoply of products related to interior design and sublimation.
Roadmaps for Inspiration
Two other routes invite visitors to immerse themselves in new advertising worlds. "Boost your Knowledge" is the title of Route 3. The agenda here features lectures and expert talks delivered as part of the Forum Marketing Innovations or Forum 13. One theme addressed along this route is also branded articles and licence rights: in the Merchandising & Licensing Lounge in Hall 12.
On Route 4 entitled "Be inspired" visitors will be guided not only to the Catwalk, the Textile Campus and the shop window of PromoTex Expo but also to the viscom Live Signmaking Workshop. Here hands-on signmaking is on the agenda. The best and most creative POS displays honoured at the Display SUPERSTAR Awards or bestsellers in the promotional product industry that can be found at PSI Product Presentations in Hall 12 are further stops on the route.
At PSI all PSI members as well as customers invited by PSI promotional product consultants will also have the opportunity to see the promotional product innovations competing for the People's Choice Award, and the most sustainable products in the industry – the winners of the PSI Sustainability Awards. The Leading International Trade Show for the Promotional Products Industry is a closed trade show for members and is held in parallel with PromoTex Expo and viscom. It can also be attended by the visitors of PromoTex Expo and viscom after their credentials are checked, and provided they are active as re-sellers in the promotional products industry. Industrial customers will only have access to PSI upon invitation of a PSI distributor on 10 January 2019.
Networking at the visprom night
And the programme is not even over after the opening hours of the trade show. On 9 January the exhibitors and visitors of PromoTex Expo and viscom will have the opportunity to wind down from the day at the show with colleagues, business associates and customers at the visprom night at Düsseldorf's "Schlösser Quartier Bohème" in the Old Town. Atmospheric music as well as food and beverages invite you to network. Tickets are available at € 55.00 from the online Ticketshop.
About PromoTex Expo
Mass customisation, smart clothes, sustainability in the textile production chain as well as textile finishing services in all their diversity: these are the trend themes at the new PromoTex Expo. Serving as a new information and knowledge platform for the sectors, this Trade Show for Promotion, Sports and Workwear in Düsseldorf is the "port of call" for international textile finishers, promotional product distributors, signmakers, textile experts and agencies. The first PromoTex Expo will be held in Düsseldorf from 8 to 10 January 2019 concurrently with the trade shows PSI – the Leading Trade Show for the Promotional Products Industry and viscom – Europe's Trade Show for Visual Communication. Together these form Europe's biggest trade show alliance for advertising and selling where more than 1,000 exhibitors and to the tune of 25,000 trade visitors are expected from throughout the world.
www.promotex-expo.com