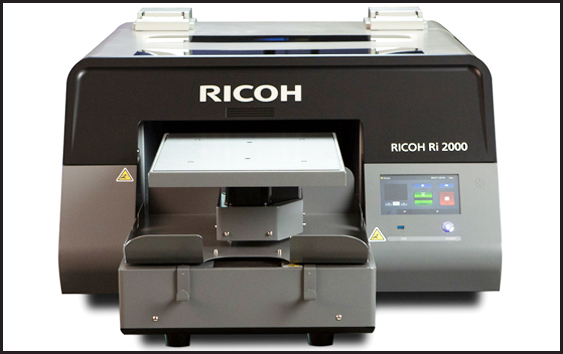 Richo launches new DTG – RICOH Ri 2000
23 February 2021: RICOH Ri 2000 has launched their new Direct-to-Garment (DTG) Printer. Built according to Ricoh's world-class standards of engineering and design, the RICOH Ri 2000 comes with innovative features such as fast print, simplified maintenance and convenient ease of use. The DTG requires less time for setting up prints.
The RICOH Ri 2000 prints full-color 10" x 8" graphics on light garments in less than 10 seconds. The same size graphic on a dark garment takes under one minute. The speed test was performed using Super Speed Mode with a 10" W x 8" H graphic . The print was timed from the start to stop of ink laydown. Platen entrance and ejection require an additional 15 seconds.
The RICOH Ri 2000 includes an innovative head cleaning jig designed for fast and easy nozzle maintenance. Instead of messing with swabs and wipes, one can attach the cleaning jig, add cleaning solution and select "Jig Head Maintenance."
The RICOH's new DTG comes with automated maintenance systems and advanced system monitoring, and it stays in an active state where it is walk-up ready. To make maintenance even easier, a built-in Interactive Operation Guide provides smart alerts and notifications via the printer's industry-leading, full-color 7" touchscreen display.
The DTG requires less time setting up prints with precise automatic height adjustment and quick-change magnetic platens. Auto table height adjustment speeds up workflow and helps foolproof prints by positioning print table with precision. Quick-change platens, in sizes up to an extra-large 16" x 19.6", easily snap on and off the machine with virtually no downtime.
www.ricohdtg.com