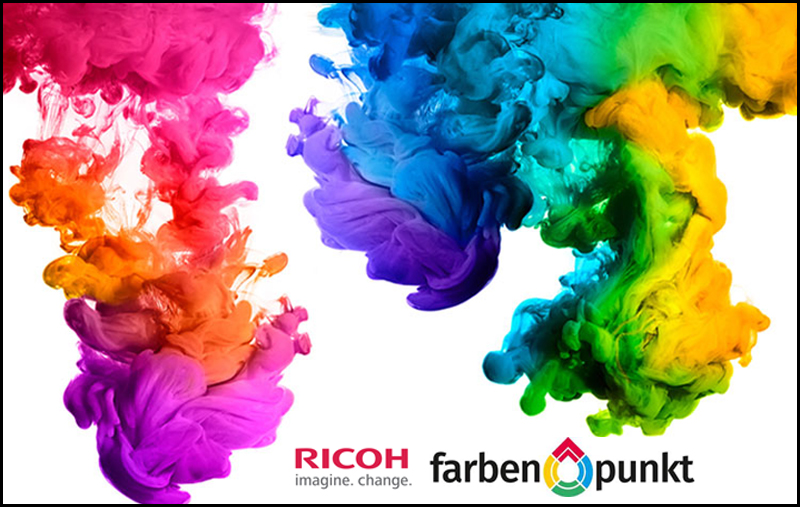 Ricoh Collaborates with Farbenpunkt to Reduce CO2 Emissions in Textile Ink
13 January 2021: Ricoh is opening market access to American ink pioneer Farbenpunkt's innovative new textile ink, PeractoJet. The collaboration enables OEM clients to compete in the highly attractive digital textile market and enhance their environmental offering. Reducing the environmental impact of global textile production caused by using dye-based, such as reactive inks in digital and analogue processes, is the driver for this collaboration.
Traditional fabric dyeing and treatment accounts for 20% of worldwide wastewater. Meanwhile, the fashion industry generates 10% of annual global carbon emissions. Ricoh now provides a robust, environmentally responsible alternative approach for digital textile printers by pairing its broad printhead portfolio with Farbenpunkt's unique Peracto Technology.
The optimised combination is ideal for apparel and home furnishing applications. It delivers more than 90% savings in fresh and wastewater use, as well as 50% savings in energy use. This delivers significant reductions in CO2 emissions. Also, no Volatile Organic Compounds (VOCs) are emitted.
The combination allows a simplified digital textile print production process which:
# Eliminates the need for high water and energy consuming stages of pre-treatment and post-treatment, saving up to €0.9 per sq. mtrs. These savings can equal twice the cost of the ink.
# Uses hot air fixation at a relatively low temperature of 140°C-160°C.
# Delivers a quick fixation time of two to four minutes.
# Ensures consistent and reliable results on synthetic, natural, and mixed fibres.
# Meets or exceeds all industry specifications for strict colour fastness tests for washing, wet and dry rubbing, lightfastness and ageing.
# The ink is also compliant with REACH, the European Union regulation for the registration, evaluation, authorisation and restriction of chemicals. It also has an OEKO-TEX Eco-Passport, an independent certification for chemicals, colourants and accessories used in textile production.
Graham Kennedy, Director, Industrial Print, Ricoh Europe, says "This collaboration builds on Ricoh's longstanding history of innovative inkjet head development and allows us to support a production sector looking for ways to address growing questions around sustainability. Digitally producing textiles with vastly reduced water waste and eliminating energy intensive pre and post treatment stages delivers huge environmental benefits. This disruptive ink offering therefore enables more cost effective production and allows manufacturers to consider establishing local production capabilities through reshoring. This is especially important now when we are seeing a growth in on demand digital production spurred on by the impact of the pandemic on consumer habits and business operations. Our Farbenpunkt partnership is good news for manufacturers and their shareholders, textile printers and consumers."
www.ricoh-europe.com