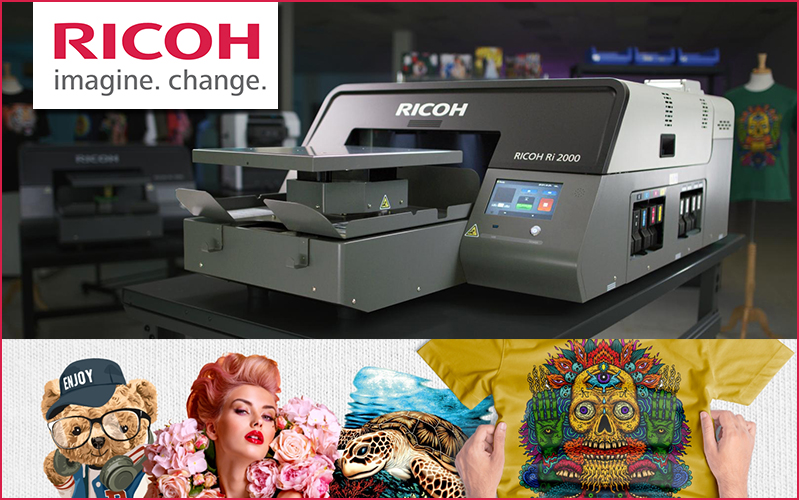 Ricoh Launches Next-Level Ri 2000 DTG Printer
29 March 2022: Built according to Ricoh's world-class standards of engineering and design, the RICOH Ri 2000 delivers uncompromisingly high performance, innovative features and unrivaled value.
RICOH Ri 2000 delivers exceptionally fast print speeds, simplified maintenance, and convenient ease of use. Spend less time setting up prints and more time growing your business. With a robust full feature set designed for the power user, the RICOH Ri 2000 delivers superior value in its price class.
– Blazing-Fast Speeds
Time is money. Ramp up your production or spend more time focusing on your business. The RICOH Ri 2000 prints full-color 10-inch x 8-inch graphics on light garments in less than 10 seconds. The same size graphic on a dark garment takes under one minute.
– Software Solutions Built for Your Business
Save time by automating your workflow. Optimize your inventory by analyzing your ink use and print volume over time. Deliver superior products with automated quality control and standardized color output across your network of printers.
– Goodbye, Manual Head Cleans !
The RICOH Ri 2000 includes an innovative head cleaning jig designed for fast and easy nozzle maintenance. Instead of messing with swabs and wipes, you now simply attach your cleaning jig, add cleaning solution, and select "Jig Head Maintenance."
– Walk-Up Ready With Automated Maintenance
With automated maintenance systems and advanced system monitoring, the RICOH Ri 2000 stays in an active state where it is walk-up ready – and virtually guaranteed to produce a perfect print whenever you are ready to use the machine. To make maintenance even easier, a built-in Interactive Operation Guide provides smart alerts and notifications via the printer's industry-leading, full-color 7" touchscreen display.
– Auto Height Adjustment & Quick-Change Platens
Spend less time setting up prints with precise automatic height adjustment and quick-change magnetic platens. Auto table height adjustment speeds up your workflow and helps foolproof your prints by positioning your print table with precision.
www.ricohdtg.com