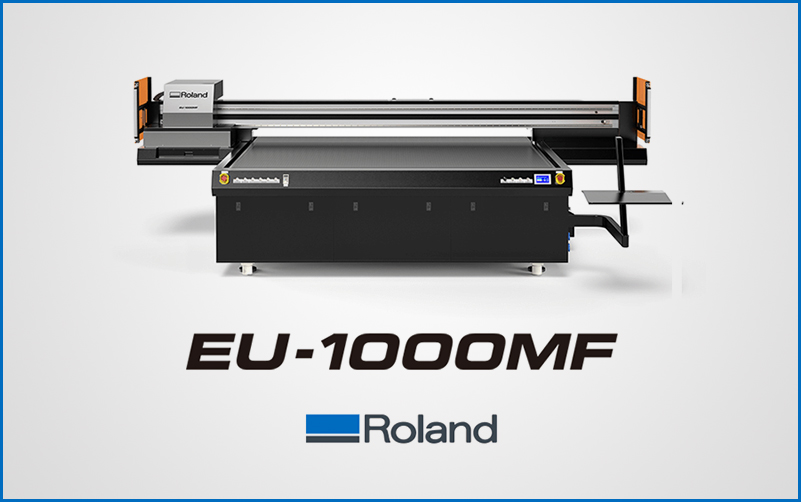 Roland DG Introduces New EU-1000MF Wide Format UV Flatbed Printer
24 March 2023: Roland DG has announced the launch of its new robust and reliable EU-1000MF wide format UV flatbed printer. The printer offers outstanding image quality with unmatched productivity, versatility and reliability – all at an attractive price.
EU-1000MF can print vivid and detailed graphics directly onto a wide range of rigid and flexible substrates, enabling print service providers to maximise their capabilities and profits. The features and functions of EU-1000MF make it ideal for a wide range of applications including signage, exhibition, interior decoration and speciality products. The printer was originally developed for specific growth markets. Due to increasing demand and the best price/performance ratio in its category, it is now being rolled out across the EMEA region.
EU-1000MF takes advantage of Roland DG's GREENGUARD Gold certified E-US UV inks. They have been developed specifically for this printer and deliver impressive graphic results at a lower cost than other UV inks for wide format printing. These cost-effective, high-density inks allow you to take full advantage of EU-1000MF and achieve exceptional prints. EU-1000MF is available in a choice of ink configurations, including white with high opacity and gloss – making it easy to incorporate impressive textural and dimensional effects into prints.
The printer optimises performance to meet modern printing needs. It incorporates innovative technologies, high-quality components and a range of advanced features that optimise performance, speed up workflow and ensure safe operation. Users have a choice of six or four printheads in a two-row staggered arrangement.
"With the introduction of the new EU-1000MF, Roland DG is offering its customers exactly what they have been asking for: an advanced, high-volume UV flatbed printer at an affordable price," reports Paul Willems, Product Management & Business Development Director at Roland DG EMEA.
For precise printing, EU-1000MF is equipped with a four-zone electronic vacuum bed that automatically adds air suction and assist to maximise media stability. Consistent plate and panel placement is ensured by media alignment pins that appear at the touch of a button and automatically align the print to the source point.
www.rolanddg.eu