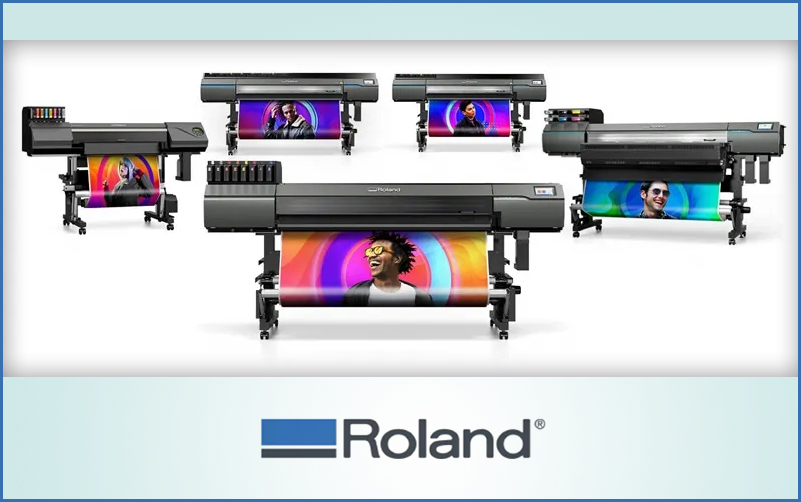 Roland DGA Announces Major Expansion of TrueVIS Printer Family
30 January 2023: Roland DGA Corporation, a leading provider of wide-format inkjet printers, printer/cutters, vinyl cutters and other advanced digital imaging devices has announced a major expansion of its best-selling TrueVIS™ line, with six new and innovative inkjets joining the product family. The newly launched models include the AP-640 resin printer, the LG-640/540/300 high-productivity UV printer/cutters, and the value-packed MG-640/300 UV printer/cutters – all offering unsurpassed TrueVIS quality, reliability, and performance. These new additions complement the four incredibly popular TrueVIS eco-solvent models – the VG3 and SG3 series printer/cutters which were introduced in March 2022.
"The launch of Roland DG's first TrueVIS in 2016 ushered in a new era of image quality, productivity, dependability, and ease of use" said Roland DGA President Amado Lara. "It quickly became apparent to print professionals around the globe that TrueVIS technology would allow them to take their graphics production to a higher level. Now, we've expanded our award-winning product line to accommodate ever-changing consumer demand and the diversifying roles of print professionals."
TrueVIS family now includes models that use three different ink types – resin, UV and eco-solvent – with each type offering the same outstanding productivity and unmatched reliability that has become synonymous with the TrueVIS brand. All TrueVIS inkjets share a sleek industrial design, durable construction and state-of-the-art user features that maximize efficiency and convenience. Like the TrueVIS VG3 and SG3 eco-solvent printer/cutters, the new AP-640 resin printer and LG Series UV printer/cutters are equipped with 7-inch touchscreen control panels that make operation easier than ever.
The TrueVIS AP-640 resin printer combines the quick-drying and environmentally friendly qualities of resin ink with image quality and color that only a TrueVIS can deliver. This powerful combination makes the AP-640 ideal for a range of applications, including wall décor, indoor signs, retail displays, stickers and decals, banners and posters, vehicle wraps, and more.
Roland DGA's Product Manager of Digital Print, Daniel Valade, notes the new AP-640 resin printer offers what competitors simply can't provide. "The AP-640, with its dual staggered printheads, True Rich Color 3 preset, GREENGUARD Gold Certified TrueVIS TA Resin Ink, and special TA optimizer, consistently delivers vivid output with rich color and excellent detail. Plus, like all TrueVIS devices, it's easy to use and extremely reliable."
Equally impressive are the new LG and MG Series UV inkjets, which are built on the TrueVIS printer/cutter platform and boast superb image quality, versatility, increased productivity, and cost-efficient operation. With their White and Gloss specialty inks, they also allow users to incorporate stunning dimensional and textural effects. The LG-300, LG-540, and LG-640 models are professional-level UV printer/cutters featuring two staggered printheads, significantly higher print speeds (up to 343 sqft/hr. in draft mode), wide-gamut EUV5 inks with new Orange and Red options, new UV lamps for more efficient curing, a newly designed take-up system, and other advancements that maximize productivity and ease of use. The MG-300 and MG-640 printer/cutters combine UV image quality, wide-gamut EUV inks and special effects capability with the user friendliness, efficiency and dependability of a TrueVIS device at an affordable price.
www.rolanddga.com