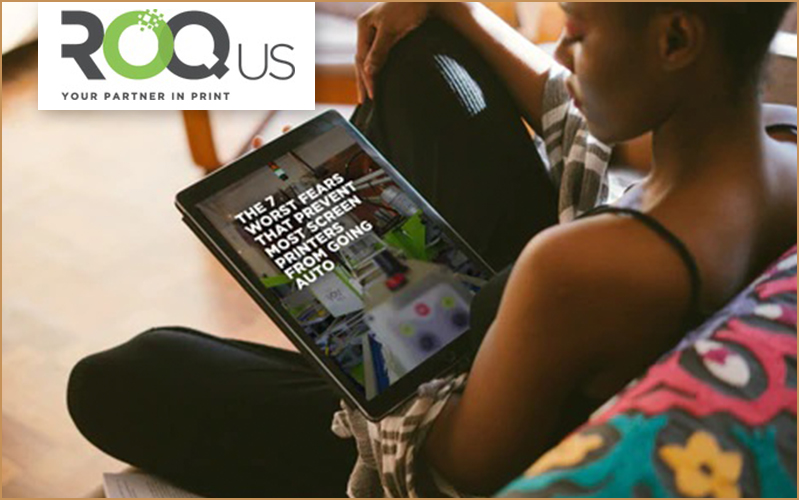 RoQ Facilitates Transition to Auto Process – Free e-book Lists 7 Worst Fears Preventing Most Screen Printers
06 April 2022: RoQ cares about your peace of mind at every step of your printing journey, which is why they have co-authored a free ebook on the '7 Worst Fears that Prevent Most Screen Printers from Going Auto' so you can hear directly from others in the industry who have been in similar shoes and learn how RoQ partners with you to overcome each obstacle and benefit from the power of award-winning automation as soon as possible.
Instantly transform time and financial limitations into assets. Here's how to do it: 1) Discover which compact automated solution makes the most sense for you. 2) Fit your custom installation with your certified ROQ.US Technician into your schedule. 3) Press Onward to expanded pipelines through precision automation and focus on your new possibilities. No shortcuts. Just shorter footprints. Whether fitting through a standard door or in your home's garage, automation is finally within reach.
If you are ROQing solo and in a garage, it fits, and it will soon turn your garage into a high-end cutting-edge t-shirt printing factory. If it's next to your bigger auto, it fits, at index speeds of up to 1,100 pieces per hour, it keeps up with the sleeves, tags, and simple prints you don't want your main press to do.
In the next frontier space is at a premium. The RoQ Fit may be your first auto or the ultimate companion for your larger press; built to fit, built to print, built to last, and built to blast you to the next level in your business. Automate your way into screen printing with a press that's not only fast but has a smaller footprint than other autos and is super easy to learn.
www.roq.us