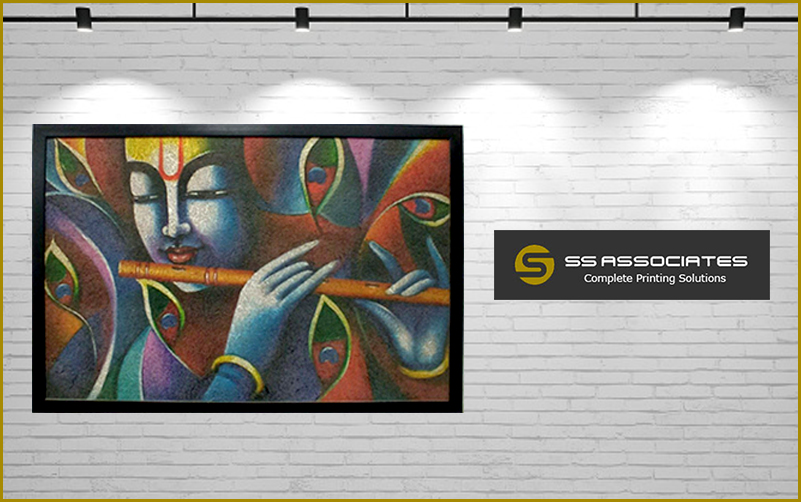 S. S. Associates Introduces Abstract Print on Coir
23 April 2022: Taking a creative diversion from the routine graphics and signage printing business, Coimbatore based SS Associates is all set to launch their ambitious gift product – a Godly Abstract Design Printed on Coir.
"Our Coir-based Godly Abstract Prints is a rare concept as it is difficult to print on such a coarse surface. It is good for gifting out by and to corporate and VIPs. We have been developing this product for the last 2-3 years and now we are through and ready to launch it soon through social media we have a huge database of our own like customers, vendors, friends, etc. In fact, we were ready but owing to the pandemic we had to delay the launch plan. Our aim is to reach out to the global market since it is an excellent eco-friendly gift item. Big corporate, shopping malls, hotels etc can have it placed on the corridor wall, etc. We have already printed several samples in different sizes, right from A4 to 3 x 5 feet with 12 to 15 mm. It will be fixed in a high-quality frame but without lamination. Since it is for indoor placement, there is no colour fading problem, it can be a long-lasting piece of art," says Sathya Narayanan K., one of the partners of the company.
"The prints have really come out very well in terms of colour reproduction on such a rough surface," he points out, adding that "We will offer both customized and standard prints. Customers can send their designs and we can print it as per their size requirements. We also plan to hire artists to create unique designs. And our price will be very reasonable."
Since Kerala is the hub of the Coir industry, the Coir substrate is easily and cost-effectively available for the company which is located in Coimbatore, close to Kerala.
"In terms of raw material, Coir sheet, we are in an advantageous position. And we have already experimented and tested the required inks to print the designs on Coir," says Sathya Narayanan.
The company has its 17,000 sq. ft printing unit with over 50 employees. The company has deployed two digital printers and four screen printing machines to print up to 4×6 ft.
www.ssassociates.co.in