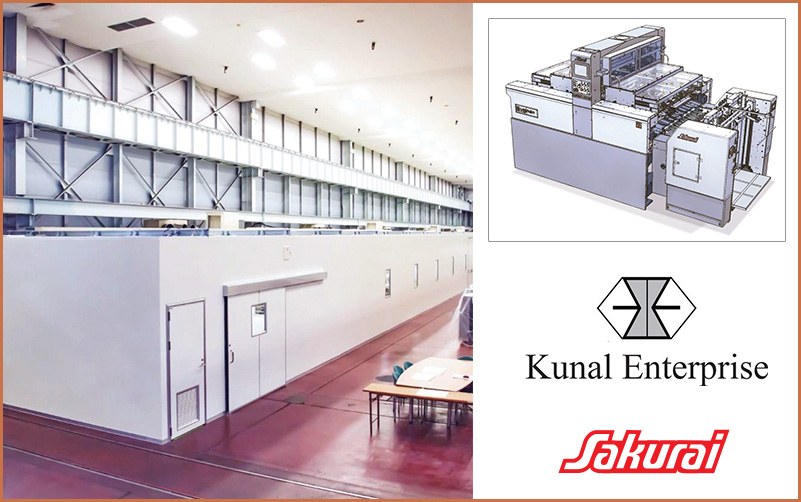 Sakurai Holds a New Technology Introduction Show '22 at its Gifu Factory in Japan
21 October 2022: The printing industry is undergoing a structural revolution in response to increasingly diversifying and sophisticated market needs. And, Japan's Sakurai Graphic Systems Corporation continues to develop printing equipment with advanced technology, thus challenging the limits of screen printing technology applications.
The company has updated the MS-80DDS servo drive cylinder screen press to focus more on "ease of use" while keeping the machine's performance high. A new system has been reborn that automates plate position correction, which used to be done manually. And, Sakurai has simplified the operation of CCD camera alignment so that even novice operators can easily operate the machine. To demonstrate its new technology development, Sakurai organized a New Technology Introduction Show 2022 for the first time in two and a half years from October 18 to 21, 2022 at its Gifu Factory. It was a "By Invitation" event for Sakurai's valued domestic and international customers.
The Show addressed the challenges of modern manufacturing. The topic was "New Ideas Spun by Screen Printing: A Common Sense Approach". The subtopics were: "New functions" specialised in labour-saving; "Prototyping-specific contract manufacturing" made possible by equipment manufacturers, and bringing the customer's specifications to fruition "Tailor-made."
During the Show, Sakurai demonstrated its Direct Servo Drive Cylinder Screen Press model MS-80DDS which has new functions specialized in labour saving technology. Sakurai showed MS-80DDS in operation. In addition, they demonstrated the LQM foil stamping machine with improved inkjet and wrinkle capabilities as well as the MSDR roll-to-roll screen press that can be connected to a wide range of peripheral equipment.
According to the company, the popular Sakurai DDS series is now available in a new 80 size. This state-of-the-art machine does not use gears or sprockets for drive control, and each part is directly driven and controlled by a servomotor. It was developed with these important features in mind: labour saving, ease of operation, and a scratch-free conveying function even for difficult materials.
In his message, Sakurai's President Ryuta Sakurai, said "After the COVID-19, the way we interact with our customers has diversified, in addition to sales as a printing press manufacturer so far, we have started "prototyping and contract manufacturing business" and "consulting about products" in 2020. We held explanatory meetings and consultation sessions regarding these two new businesses at the Show and exhibited a screen press, which has been updated with new functions added to the existing screen press, foil stamping machine, and roll-to-roll screen press. Sakurai continues to be a leading manufacturer that creates new products and markets together with our customers and shares in their success."
Ryuta Sakurai said that Sakurai customers do not need to invest in initial equipment and can utilise our operators with specialised skills such as manufacturing and production control. At this exhibition, we organized a clean room tour, explained a series of flow schemes related to prototyping and contract manufacturing based on our past successes and propose a way of proceeding that matches customer's products.
He added "Sakurai offers custom solutions to customer's specifications. This means that we not only apply custom specifications to the printing press hardware but also incorporate applications such as dryers, screens, and inks into the overall line configuration to offer the best custom solutions to our customers. Sakurai presses have been used in industries with completely different needs, such as automotive, biosensors, wearable devices, and security. Now that our customers' jobs are becoming more diverse, we propose a line configuration that is energy efficient, labour saving, and one-pass in mind to meet all the requirements necessary to manufacture the customer's products.
The show highlighted two major areas of interest, including a Technology Area, where participants could see examples of how Sakurai's silk screen printing technology and one-pass, labour-saving presses are being used by customers in a wide range of industries. The other was an Application Area, featuring Sakurai's newly launched prototyping and custom contract manufacturing business (SAP-CMS), which supports its customer's new product development efforts.
Sakurai's prototyping-specific contract manufacturing is made possible by equipment manufacturers. Some companies may have something to produce, but they cannot make a large initial investment at the prototype stage. They can proceed with prototyping without labour costs and mass production as soon as possible. And, Sakurai's prototyping and contract manufacturing business, SAP-CMS can solve these problems. With their prototyping and contract manufacturing, no initial investment, utilisation of its operators, and early mass production can be realized. The visitors had the opportunity to talk directly with its engineers who have expertise in design and quality assurance, as well as their consulting team.
www.sakurai-gs.co.jp