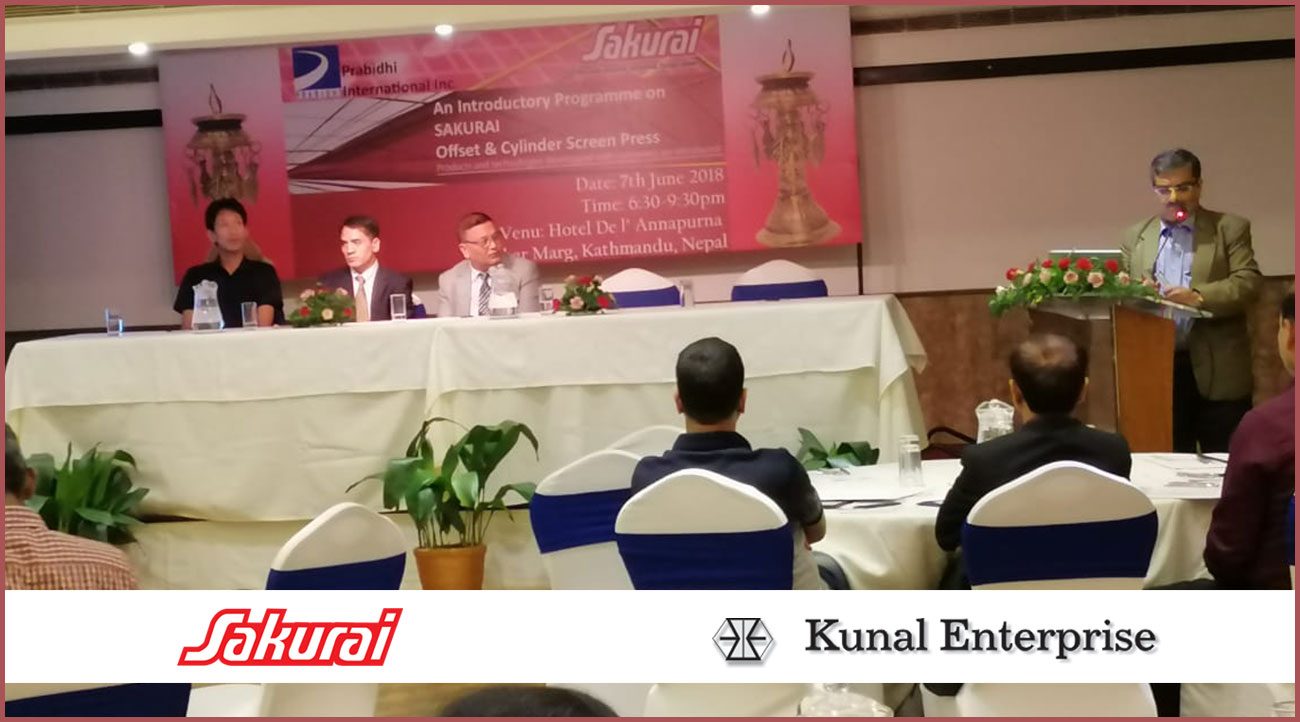 Sakurai-Kunal Enterprise holds seminar in Nepal
15 July 2019, Mumbai : A presentation on various applications on screen printing was accompanied by a showcase of Sakurai range of machines for offset and screen printing. Headquartered in Mumbai with branch offices across key locations throughout the India, Kunal Enterprise has a single–point focus of providing effective and innovative solutions with wide coverage towards graphic and printing Industry. Most of the globally renowned brands of machineries from pre-press, press, post-press & 3D printing with sophisticated innovative solutions. They are taking rapid strides forward to further strengthen their market presence and reach overseas.
Taking yet another significant step in this direction, Kunal Enterprise and Sakuari jointly organized a seminar in Nepal at Kathmandu Hotel Annapurna on June 8, 2019. We focused and concentrated at detailed presentation on the various applications of screen printing, which was accompanied by a showcase of Sakurai range of machines for offset and screen printing. The main objective was to reinforce local printers to derive decision and take steps to initiate their transition towards automation.  
 
Ajay Gandhi, Managing Director, Kunal Enterprise, shared that "the seminar was attended by around 25 printers, all of them were from offset printing and packaging industry. We have appointed a local representative and this initiative was aimed at highlighting the range of screen printing machines. The response from the printers was quite enthusiastic and very positive. They were interested in examining the Sakurai machines and inquired about different aspects. We ease them to understand how automation could facilitate their growth and enable them to achieve larger assignments while delivering international quality & standards".
Commenting on potential for industry growth in Nepal, Ajay Gandhi quoted, "We foresee there is a good feasibility for value addition at commercial and packaging, & security printing in the private as well as government sector. Industrial screen printing can be developed in the years to come. There is a need to increase awareness among the local printers on the benefits of automation in terms of lowering manual labor costs while raising their capability and profitability".
www.kunalenterprise.com