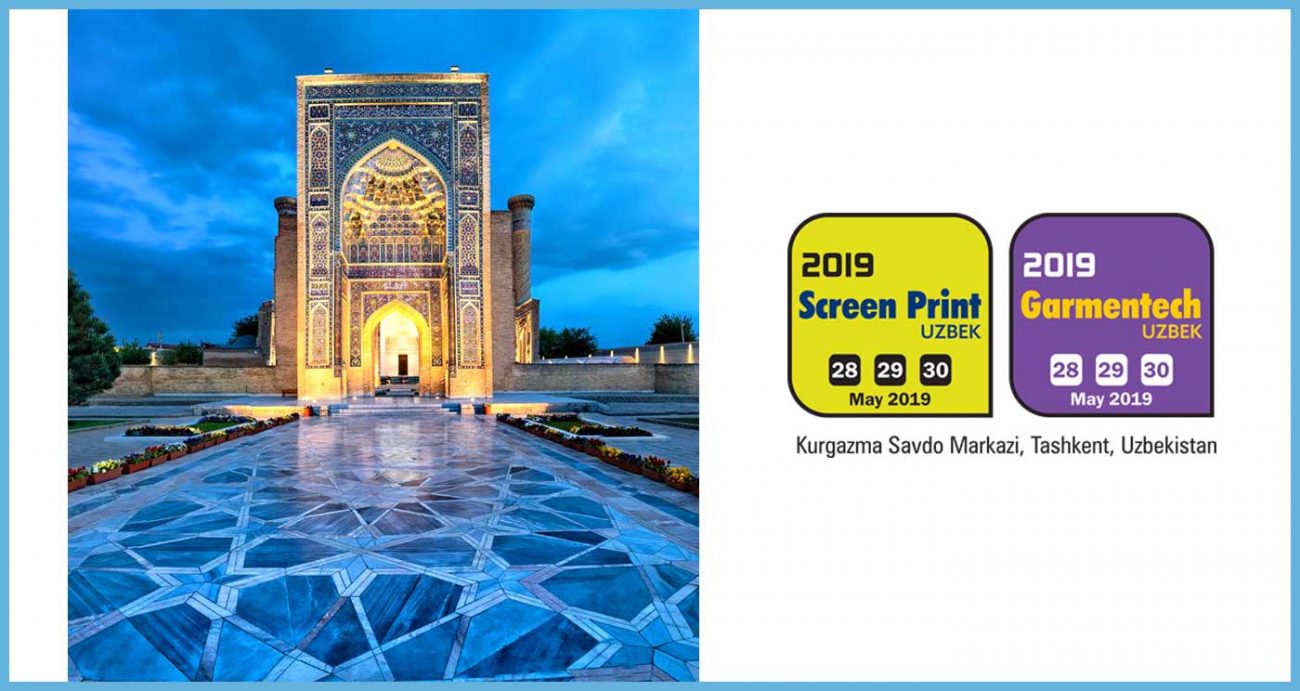 Screen Print Uzbek 2019/ Garmentech Uzbek Expo announced
These exhibitions will be organised by Vibgyor Exposition and held on May 28, 29, 30, 2019 at Kurgazma Savdo Markazi in Tashkent, Republic of Uzbekistan
Vibgyor Exposition, Mumbai, has announced their new exhibition, Screen Print Uzbek 2019 and the concurrent event, Garmentech Uzbek 2019. These exhibitions will be held on May 28, 29, 30, 2019 at Kurgazma Savdo Markazi in Tashkent, Republic of Uzbekistan, an unexplored market strategically located in the West Central Asia.
Devang Sheth, Director, Vibgyor Exposition, shared, "During the interaction with the Uzbek industry experts, we discovered that the Uzbekistan printing market has a positive attitude towards adopting newer technologies and techniques in printing – be it screen, digital, textile, sublimation, packaging, etc. The printing industry there keeps on updating technology and knowledge to build capacities and capabilities to undertake any type of printing services. Considering the needs of the Uzbekistan printing industry and garment printing/textile industry, Screen Print Uzbekistan 2019 will be organized by us."
The new exhibition will focus on Screen Printing, Textile Printing, Digital Printing, Sublimation Printing, Textile and Apparel Machinery. It is being organized with the theme "New Business Horizons."
"Besides Indian manufacturers and suppliers, we are also approaching many international manufacturers and suppliers to participate in this exhibition. Vibgyor Exposition will make all efforts to make this event a grand success. The organizers will undertake massive online/offline promotion/social media campaign in Uzbekistan and neighbouring countries," says Devang Sheth.
According to him, Print service providers and print buyers in Uzbekistan and neighbouring countries will have a great opportunity to explore products and services in the field of Textile, Digital, Sublimation Printing & graphics/ signage printing and also garment and apparel machinery. "And at the same time the exhibitors will have the opportunity to explore potential in a new emerging market," he added.
The Uzbek economy is in a gradual transition to the market economy. Since 1995, as the cumulative effect of policy reforms began to be felt, its economy has shown robust growth. The Gross Domestic Product (GDP) in Uzbekistan expanded 5.2% year-on-year in the first nine months of 2018. GDP Annual Growth Rate in Uzbekistan averaged 7.72% from 2006 until 2018. Uzbekistan is predicted to be one of the fastest-growing economies in the world (top 26) in future decades, according to a survey conducted by HSBC.
Thanks to the comprehensive assistance and support of the private sector, the business climate in the country is constantly improving, and freedom of entrepreneurship is being strengthened. All this was reflected in the increase in the number of new small enterprises and their specialization. It is no secret that in the early years of independence, small business began with trade, and today business people are increasingly showing an interest in creating small manufacturing enterprises that are actively developing innovative technologies, manufacturing export-oriented and import-substituting products. Entrepreneurs of Uzbekistan are increasingly active in foreign markets, supplying high-quality textile, leather and footwear products, furniture and much more.
On the textile front, Uzbekistan is among the world's leading cotton producers. The leading exports from Uzbekistan consist largely of extracted natural resources or raw materials such as cotton and manufactured goods such as machines, textiles, etc.
Reportedly, a resolution was passed by the Cabinet of Ministers of the Republic of Uzbekistan on additional measures for the further development of cotton and textile production. From the beginning of 2018 a cluster form of organization of cotton and textile production was introduced in 20 districts of the republic in the territory of 160 thousand hectares.
Uzbekistan supports the development of comprehensive and mutually beneficial relations with the countries of South Asia, in particular, with India, etc, in trade and economy, transport, communication, tourism and other spheres.
Vibgyor Exposition belongs to a Group of Companies, engaged in trade fairs and trade publications. The Group has been playing a pivotal role in the development of screen printing industry in India and other countries for the last 25 years. 
www.screenprintuzbek.com