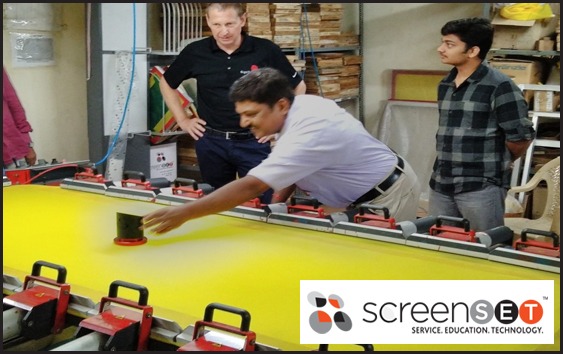 Screen SET initiative facilitates printers – Provides R&D service for those ready for quantity jobs
29 March 2021: Pune-based Screen SET is further facilitating screen printers and has recently announced a new proposition for them. The firm will do research and development for the screen printers who are willing to do quantity jobs. Screen SET is a screen printing training centre, the brainchild of Prashant Sardeshmukh, Director of ShriRam Enterprises. Screen SET is a progressive business model initiated by ShriRam Enterprises in cooperation with Sefar, Switzerland. It is spread over 3,000 sq. ft. area having all screen making, printing and curing/drying facilities for practical training and implementation.
Elaborating on this recent initiative, Prashant explains, "The R&D service that we have started providing to the screen printers involves developing critical jobs and handing over all process parameters to them. This R&D unit is fully equipped with essential instruments. We print samples as per requirement and provide all parameters to the customer so they can print the quantity without any variation. This is the first time such a service is being offered to the industry. We are catering to the genuine need for screen printing. Our faculty team and supporting team are the strength of the Screen SET initiative."
ShriRam Enterprises was founded in 2006 as an eminent trading and service provider of printing ink, adhesive tapes and many more products. These products are sourced from certified vendors of the industry and are offered after performing stringent quality test measures on them.
"It has been possible for us to meet the diversified requirements of customers, backed by our stringent working procedures and the team of experienced professionals. From the day of initiation, we have followed customer driven policies and thus, we have gained immense fame in the market. In the process, we have appointed our in-house team of quality controllers who perform stringent quality test measures and thus, assure our procured offerings to be of impeccable usage. We are here to make our customers satisfied and thus, are offering products under cost-effective budget," Prashant reiterates. 
screensetpune@gmail.com
www.shrirampune.com