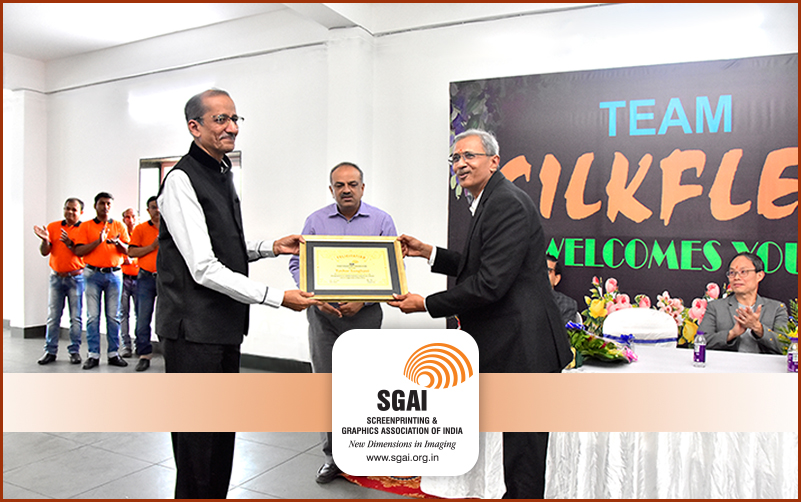 SGAI (India) Honours Tushar Sanghavi, Director, Silkflex Polymers India (P) Ltd.
29 November 2022: Tushar Sanghavi, Director, Silkflex Polymers India (P) Ltd., the man with the vision, marked the milestone of 8 years since the company's inception in 2014 with the unveiling of Silkflex House on 10th November 2022. During the inaugural function, Devang N. Sheth, Secretary, Screenprinting and Graphics Association of India (SGAI), highlighted the growth of Indian textile printing industry and recounted his association with Silkflex India since its inception. He then, along with Sushil Golchha, Vice President (East), SGAI, felicitated Tushar Sanghavi, presenting him with a memento and shawl. Dr. Eric Tan, Managing Director, Silkflex Polymer Company Sdn Bhd, Malaysia was also honoured with a shawl by them as per the Indian tradition.
As the host, Tushar Sanghavi welcomed all the guests and spoke about the vision, planning and future path of progress of Silkflex. Speaking on the occasion, he emphasised that "this journey of progress is possible only with support of my staff, my dealers, my principal partners and my distributors as today we are benchmark in the industry for quality, reliability, competitive price and 'on-time' service.
He further said, "Progress for us has never been a dream. It has always been a distant reality and once one milestone is achieved, there is always another one waiting to be crossed. It is with this belief that we started Silkflex Polymers (India) Pvt. Ltd. We have a very highly experienced team which has worked in the textile field for more than 40 years, sharing their experience, which include a high amount of technical know-how, expertise and specialised knowledge, technical support, logistics and value addition.
"Our product's performance gives us the lead among the other worldwide competitors with respect to excellent hand feel, high elasticity, high coverage, excellent brightness with less consumption. We have committed ourselves to share all effort and success with our customers. Everything we do is based on our corporate values: Achievement, Respect, Responsibility, Integrity and Transparency. Overcoming challenge after challenge with the support of my brilliant team, we have been successful in bringing Silkflex Polymers (India) (P) Ltd. to a new milestone of global recognition."
Silkflex Polymers India commenced operations 8 years ago in the year 2014 and it is commendable that in such a short span of time, they have set up offices in Kolkata, Ludhiana, Tirupur, Ahmedabad, Mumbai and Jodhpur. Today, Silkflex is among the top players in the Indian textile printing inks segment and this excellent progress has been achieved by Tushar Sanghvi, the veteran industry player.