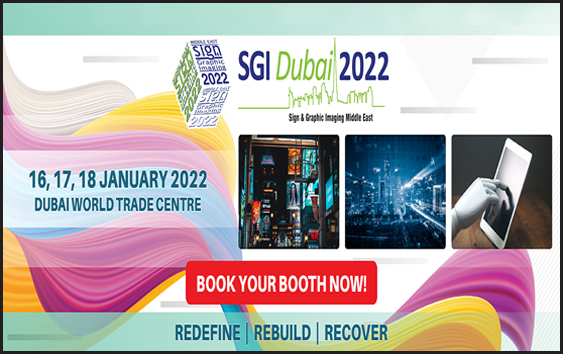 SGI Dubai 2022 to take place in January 2022 at Dubai World Trade Centre
01 April 2021: After successfully hosting the virtual edition of the SGI Dubai show earlier this year, International Expo Consults (IEC), the organizers of the SGI Dubai show, is gearing up to launch the physical edition in January 2022. The SGI Dubai show is scheduled to take place on the 16-18 January 2022, at the Dubai World Trade Centre. The 25th Annual Sign & Graphic Imaging Middle East (SGI Dubai 2022) is an annual exhibition dedicated to Graphic Imaging, Signage, Screen & Digital Printing Industries.
"Owing to COVID-19 pandemic in the whole year of 2020, this year we went ahead and organized the virtual edition of the show and enabled global and regional brands showcase their credentials through this engaging platform. This will be an engaging convergence point for industry stakeholders from around the globe. We would urge the leading brands to connect with our team to book their strategic booths and take advantage of this opportunity in advance," said Sharif Rahman, CEO, IEC.
SGI Dubai is the region's largest trade exhibition for sign-makers, print production houses, gift & promotion companies, media agencies, mall owners, car wrapping industry, real-estate developers, hospitality and tourism industries, 3D printing industry, architects, brand and image consultants among other stakeholders in the printing, signage, and imaging industries.
SGI Dubai 2022 showcase is set to include apart products from the traditional printing and signage profiles, digital signage products and solutions that are embedded with artificial intelligence, holographic displays, haptic touchscreens, bendy displays and other emerging technologies. This edition of the show will also witness various events such as SGI Dubai 'Wall of Fame', live car wrapping demonstrations and panel discussion conducted by industry experts under the banner of 'E3 Talks'.
The SGI Dubai aims to redefine the future of the printing and signage industries by showcasing some of the best innovations from across the globe, featuring Banners & posters, Advertising, Graphic imaging industry, Electronic message centers, Signage, Photo imaging & printing, Digital imaging, Architectural hardware, Graphic services, Electric signage, Outdoor advertising, Large format printing, Printing, Printing on paper, Sign substrates/equipment. Apart from the Middle East, the organiseres expect visitors from parts of Africa, Asia and Europe.
www.signmiddleeast.com