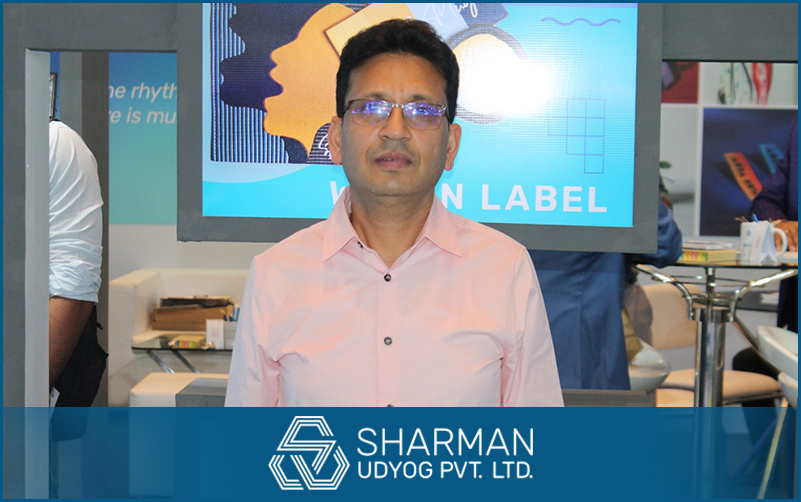 Sharman Udyog – Celebrating 60 Years of Growth and Success
23 April 2022: Sharman Udyog (P) Ltd., a Diamond Jubilee celebrating company, showcased its prowess in heat transfers and other garment accessories at the recently concluded CMAI Fab Exhibition in Mumbai. The company's Director, Sanjay Jain who was present at the expo, was personally interacting with their reputed clients and explaining to them the company's innovations. The company was in an advantageous position at the Fair, which had a separate pavilion for garment accessories. And Sharman Udyog being the biggest stall in the garment accessories pavilion received huge footfalls.
Sharman Udyog (P) Ltd. is a prestigious name in the production of apparel identification products, garment accessories, heat transfer labels, etc. Its product portfolio includes Buttons, Tapes, Printed Products, Hang Tag & Tag Seals, and Woven Labels. Printed labels are an important item for attracting the consumer's attention. They usually contain information such as washing instructions and fabric composition, together with the company logo. Certified with ISO Standard 9001:2008, Oeko Tex Standard 100 Class I, TQP standards, the company meets the current global norms of the industry.
Established in 1964, Sharman Udyog is one of the pioneers in introducing shuttle looms in the country. In 1969, the company increased its production capacity by inaugurating a new facility in the heart of Ludhiana. In 1984, the company diversified to include knitted fabrics in its product offerings. The company expanded its operations and set up the largest label manufacturing facility in Kundli at that time. With the growing demand from the domestic markets, they invested heavily to increase their production capacity four-fold. The company later set up a sales office in Tirupur to cater to the growing knitted garments market in the South Indian market. To meet the market demand, the company invested in the most modern technologies from Germany to increase its capacity by 30%.
Headquartered in Kundli, it also has offices in Delhi, Ludhiana, Mumbai, Bangalore, Indore, Kolkata, Chennai and Tirupur. Highly equipped with weaving, knitting and garment technologies, the company is also well known for labelling solutions for the garment industry."With its dedicated and skilled team, Sharman Udyog strives to maintain its position as an industry leader with continuous research & development. Periodically, they create a catalogue of upcoming styles and technologies that will lead the label design space across the world.
www.sharmanudyog.com