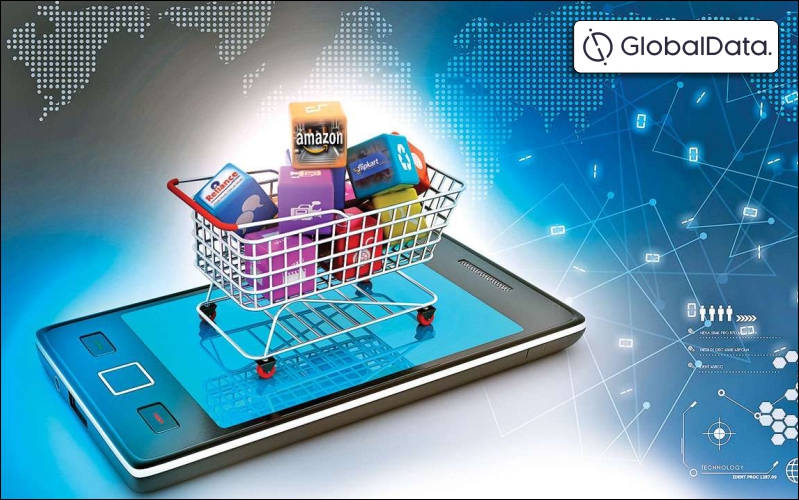 Shift in consumers preferences drives India e-commerce growth at 23% CAGR by 2025: GlobalData
13 October 2021: India's retail industry is set to witness a massive shift with its e-commerce sales expected to grow at a compound annual growth rate (CAGR) of 23% during 2020-25 to reach INR9,328bn (US$119.0bn), according to GlobalData, a leading data and analytics company.
Indian consumers preferred buying fresh groceries from local markets before the COVID-19 pandemic. However, due to the pandemic induced restrictions, online food & grocery sales grew by 76.7% in 2020 to reach INR273.1bn (US$3.8bn) and are further expected to grow at a CAGR of 31.9% to reach INR1,088bn (US$13.9bn) in 2025.
According to GlobalData's Q3 2021 consumer survey, 59%, 57% and 49% of Indian respondents have rated Big Bazaar, Reliance Fresh and Amazon, respectively, as the most popular retailers in the last three months (May-July 2021) followed by Big Basket (47%) and Dmart (46%).
Ankita Roy, Retail Analyst at GlobalData, comments "The rapid growth of the online channel shows further potential as shoppers are sticking to habits formed during the pandemic. Jio Mart and supermarket D-Mart's 'Dmart Ready' took a step into the online grocery market in 2020 and have quickly gained substantial share, while Big Basket led the online grocery market. Traditional retailers such as Big Bazaar, Star Bazaar and Spencer's Retail are yet to gain a footing in online grocery as it takes large investment and strategic planning to venture into this fast-paced thin-margin space."
The Indian clothing & footwear market is expected to grow at a CAGR of 20.8% to reach INR2,020bn (US$25.8bn) in 2025. Our survey indicates that the top 10 most popular clothing & footwear players in India have an online presence – with Myntra (52%*), Nike (44%*) and Big Bazaar (42%*) being the three most popular.
Roy continues: "Although online shopping for clothes has been deterred by a lack of uniform sizing and complicated return policies, these issues have been addressed by online specialists like Myntra through a locally driven supply chain and 'Style Exchange' technology that helps shoppers find an accurate size and fit. With a growing demand for the online channel, brands/retailers must ramp up their digital operations to make headway in the market."