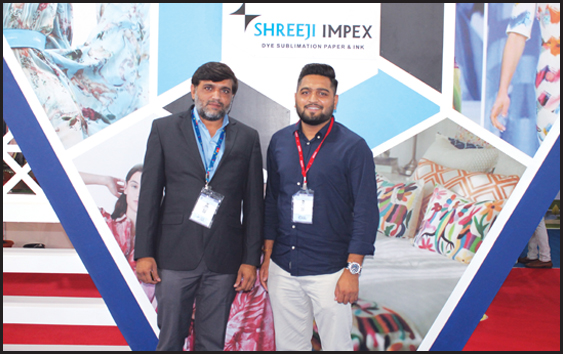 Shreeji Impex achieves rapid success in dye sublimation paper market
10 February 2021: Shreeji Impex, a start-up dye sublimation paper manufacturer, showcased their range of sublimation papers for the first time in SITEX 2021, a leading textile technology show held recently in Surat.
The success of the company is such that the company was established in 2016 with barely 50,000-meter dye sublimation paper per day capacity and now they roll out about 200,000 meters per day with over 100 regular customers all over India. The company has now three production units at Vapi in Gujarat which roll out 50 gsm to 90 gsm paper with 36 to 70-inch width in roll form.
Shreeji Impex has tied up with A.T Inks and they had jointly showcased their respective products range at the SITEX Show. "We received an overwhelming response in the expo. Textile printing orders are now moving towards digital. And we are making collective efforts to offer the best dye sublimation paper by having an alliance with A.T. Inks so that whatever technical issues are there concerning paper and ink is sorted out before the production take place. We make good quality paper and A.T Inks is known for quality inks for digital textile and sublimation printing," says Dharmesh Patel, Founder of Shreeji Impex.
He adds "To achieve maximum ink transfer, we use the most advanced coatings available in the market. Our sublimation paper is designed to release the dyestuff from the ink as much as possible during sublimation transfer, resulting in brilliant colour with almost 97% of the ink transfer onto polyester textiles – fashion, home décor, sportswear, soft signage, etc."
Shreeji Impex Founder says that their sublimation paper is eco friendly and is subjected to elemental chlorine-free (ECF) bleaching. And as the paper is acid-free, it has long colour stability and enhanced stability in terms of strength.
Sreeeji Impex offers both low Gsm and high Gsm dye-sublimation papers. Speaking about high Gsm paper, Dharmesh Patel says "High Gsm paper useful for a faster drying, good for textile and paper to adhere during the sublimation process, good for sublimating on a variety of closely knitted/stretchy textile which may cause some issues. If one is sublimating on rigid materials or just has to use a lot link to reach the required colours, then High Gsm paper is suited."
On the other hand, he says that that low Gsm papers are meant for high-speed production and higher glycol ink. The dye sublimation market led to the introduction of high-speed industrial printers and single-pass printers with Epson heads and matching sublimation inks which require low Gsm paper."
Kishan Patel (98797 71867)  / shreejiimpex999@gmail.com