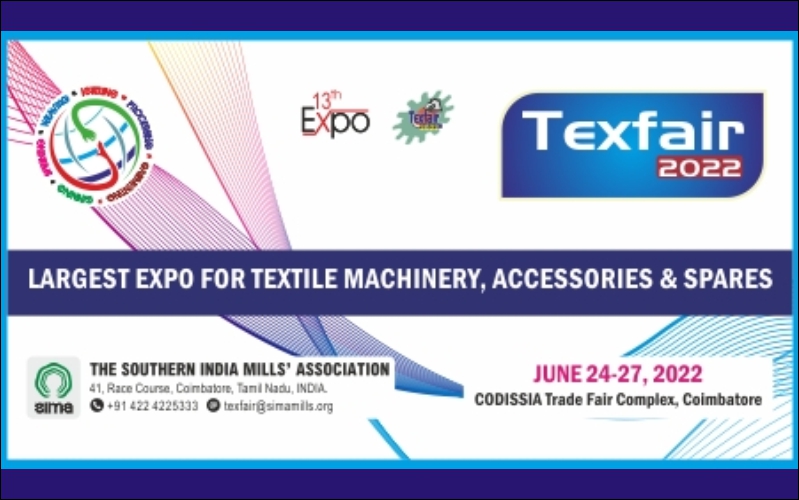 SIMA to Organise TEXFAIR 2022 in June 2022
14 January 2022: Southern India Mills' Association (SIMA) have announced their plan to organise the 13th edition of Texfair 2022, on June 24-27, 2022 at CODISSIA Trade Fair Complex, Coimbatore. The Texfair, focussed on textile machinery, accessories and spares, is being held since 2001. SIMA has formally commenced stall bookings on 25th November 2021 and the initial response is overwhelming.
The Expo will be participated by Manufacturers and suppliers of textile machinery and spares of ginning, spinning, weaving, processing, powerlooms, handlooms, knitting and garmenting, Textile testing equipments, effluent treatment, Auxiliary equipments, Packaging materials, Textile software companies, etc.
SIMA was established in 1933 at the initiative of 1st Finance Minister of Independent India, Late R. K. Shanmukham Chetty representing the entire textile value chain in South India. Started with 11 members; now has over 500 members covering all the sectors (fibre to finishing). Played a key role in developing the textile industry. SIMA is the single largest employers' organization representing the organized textile industry in the world and the only employers' organization of the textile industry.
In his message, Ravi Sam, SIMA Chairman (Managing Director, Adwaith Textiles Ltd.), said that the future for the Indian textile industry looks promising, buoyed by both strong domestic consumption as well as export demand as China is drifting away from textile manufacturing activities. He noted that in the globalized environment, the State and Central Governments have brought several historical reforms, enabled ease of doing business and taken bold and proactive initiatives apart from announcing several unique schemes like Production Linked Incentive (PLI) Scheme, Mega Investment Textile Parks (MITRA) Scheme, etc., to enhance the global competitiveness of the industry.
www.simamills.in