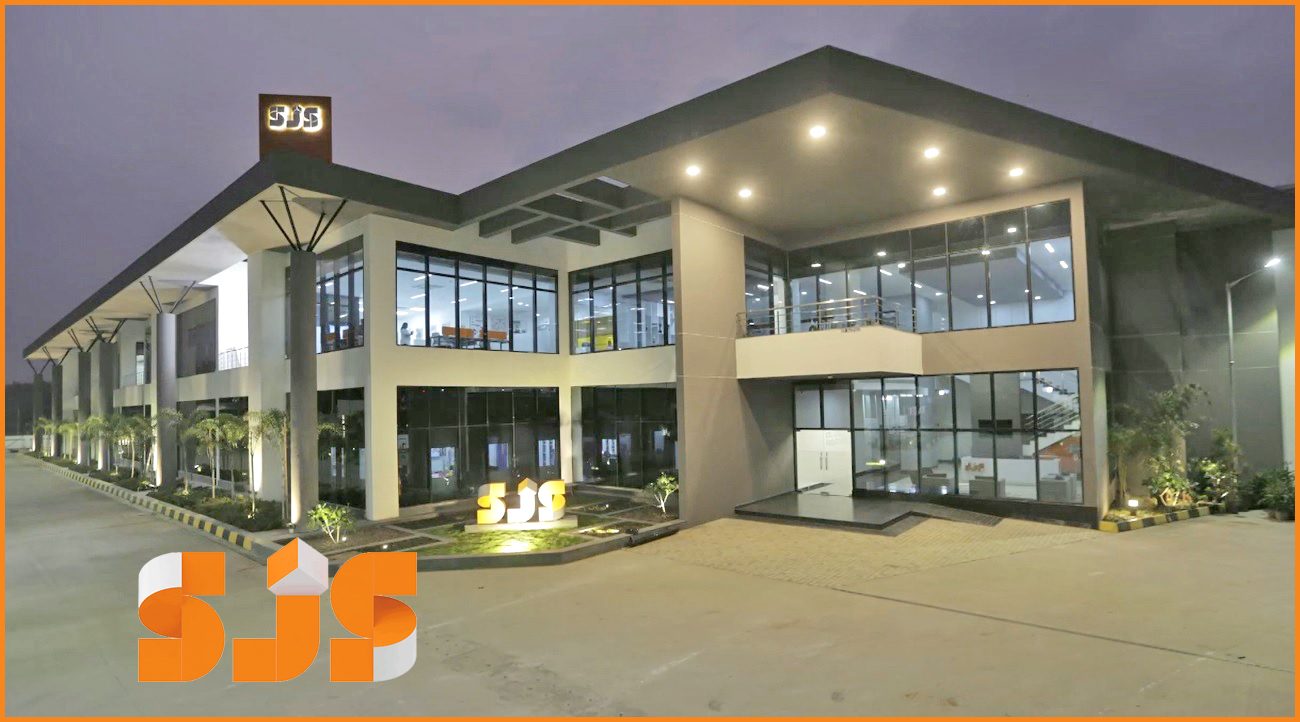 SJS targets Rs.500 Cr turnover in 2-3 years with commissioning of new plant
Plans to achieve Export/Domestic ratio of 50:50 by 2025
As one sits in the reception of the new plant of SJS Enterprises Pvt Ltd, Bengaluru, the attention is quickly drawn to their new tagline written on the wall along with a Manifesto which reads as under:
"Creating Possibilities"
"We travel at the speed of thought 
"Dreaming up the new,
"Opening up imagination 
"To close the gap between 
"Thinking and doing, 
"So that we can turn 
"Today's possibilities
"Into tomorrow's reality."
So, having successfully commissioned their new 2.25 lakh sq.ft plant constructed on a 9 acre land, with all modern infrastructure including Class 100 K clean room environment, the company's Managing Director, K. A. Joseph, has set ambitious plans for the future. He has set a target of reaching a Rs.500 crore turnover, that is, to run the plant with full capacity, in the next 2-3 years, by creating all possibilities. And he has also set a target of taking their domestic/export turnover ratio to 50:50.
SJS is a world class manufacturer of Automotive Dials (automotive dashboard interior), Climate Control Overlays, Exterior Decals (vehicle graphics for two and four wheelers), Overlays, Badges and Logos for the automotive, electronics and appliance industries, which were hitherto rolled from their old plant having about 1,00,000 sq. ft plant. Their new plant became fully operational on October 1, 2018.
Over to his interview:
Congratulations for the new plant. 30 years plus! Tell us about SJS's journey far:
SJS Enterprises was founded in 1987 and the name 'SJS' was derived from the initials of the three founders, viz, Sivakumar, Joseph (myself), Srinivasan, who have retired now and divested their shares to Everstone Capital which is a Singapore based investment company and Sanjay Thapar has come on board as an Executive Director who oversees finance and marketing.  
Looking back, I am an MBA, specialized in sales and marketing. Both Sivakumar and Srinivasan were my colleagues in SKF. We quit the job and decided to start our business. We started a venture to produce bumper stickers, and reflective stickers for MICO which were not printed by regular commercial printers those days. We then graduated into industrial printing and started producing operator panels for computers and printers. We then moved into automobile segment in 1995-1996 and started making speedometer dials. In 2001, after shifting to our current facility, we also started producing automobile decals for 2/4 wheelers. Later we also introduced chrome labels with 3D effects. We were the first one to introduce Dome labels way back in 1992-93 and we still remain to be one of the largest manufacturers of dome labels. These labels are used for branding, decoration and its application depends on ingenuity and creativity.
SJS has a new logo with orange color and a new tagline: Creating Possibilities. Please elaborate about your new thinking :
SJS's new logo represents dynamism and the fire in us. We are ambitious of creating more possibilities with dynamism and meet customers' expectation which is ever evolving. It is visually reflected in our new website where the logo can be seen rotating, thus symbolizing change. In line with our new tag line "Creating possibilities," we are making ideas go further. We are into product decoration space, catering to automobile and appliances industries etc. So, the decoration work that we do enhances face value of customers' products. Our tagline reflects that we can create more possibilities by improving the overall value of their products. And, we have changed the color of the logo from Blue to Orange. Orange reflects creative fire in the belly.
Having said, our Design Lab is the hub of creativity, imagination and innovation, translating customer mood boards and themes into graphic design with textures and colours that enhance product appeal. With our Design Lab, SJS becomes a concept-to-output destination for our clients. The way we create, is highly immersive, taking what we visualise through every stage till it is realised to our level of perfection.
What other changes have been incorporated into your new plant ?
When you move to a new place definitely there has to be some newness. Dust is a major enemy of our industry and we need highly clean room environment. So our new plant is fully air-conditioned with Class 100K Clean Room Facility and climate controlled environment. Our employee strength has gone up from 700+ to 1000 plus. Our work culture has also undergone some change. Our employees' outlook towards the company has also changed, so much so that, they feel like working in an MNC and they feel proud and happy working in a new plant.
Area wise, we had close to 1 lakh sq.ft and our new plant is about 2.25 lakh sq.ft. On the production floor, besides the regular products such as automobile decals, dials, membrane switches, capacitor switches, we have introduced In-Mould decoration (IMD) with full-fledged facilities. Instead of overlays we offer fully finished products. These are mainly for appliances. And Automobile industry is also moving into In-mould decorated products. We will soon introduce In-mould decorated products for electronics which is currently at R&D stage. Moreover, our new plant has the capacity to take our turnover to Rs.500 crore.
Any measures on environment :
On the environment front, our new plant is possibly a candidate for 'Green' certification, so much so that, we in the process of obtaining the Gold Certification from LEEDS (Leadership in Energy and Environmental Design), the most widely used green building rating system in the world. We have 700 kVa solar plant.
New plant is a new beginning for SJS: So what is your vision for the next 5 years ?
As I said, we want to reach a turnover target of Rs.500 crore in the next 2-3 years and we plan to expand our export presence as well. Going forward as the industry and customer demand evolves, we will also introduce new products in the coming years.
What are the challenges that you foresee ?
There would be challenges as we grow in terms of variation in customer demands which is always fluctuating in nature. In the last 3 months we had minor setback in automobile segment performance, especially in the two wheelers. If 2/4 wheelers market gets affected we also get affected. There is a challenge of dependency on a particular segment of the markets.
So what is your strategy ?
We are chalking out a well-balanced sales plan to overcome the dependency on certain market segments. We are planning to strengthen appliances and InMould decoration spaces. As I said, expanding into export market is our main strategy.
What is your export target ?
We are one of the leading industrial graphics products manufacturers in the world. Currently, we export to 32 countries. Since our labour costs are relatively lower than western countries we would like to capitalize on the same and increase our presence around the world. Currently, our major markets are USA, European countries, South America, Canada, etc. Our domestic/export ratio is 70:30 and we wish to achieve 50:50 ratio of domestic/export business by 2025.
Your views about Industrial printing scenario:
Technology has changed over the years. There is good growth across all segments. We are catering to two / four wheeler industry. And two wheeler segment is connected to rural economy. So, if rural economy grows, two wheeler segment will grow. It all depends on how our GDP grows. If GDP is growing at 7-8%, we will have double digit growth in industrial production which in turn will give opportunity for us. As far as my observation is concerned, the Automobile sector – cars and bikes – is growing at about 16% growth and that of Appliances is growing at 10-12%. It is up to us to channelise the potential. As I said, we are going aggressively on In mould decoration and we will have more injection moulding facilities.
Tell us about the importance of training :
Learning is a continuous process. In the past we had hired international consultants and it paid off. We have our own internal training and skill development programmes. In screen printing, there is technology and lot of people skills involved, such as meticulous screen making, optimum of use machines, setting various process parameters, quality checking, standardization, etc,
What are the QC measures adopted by you ?
Before QC (quality control), we have to ensure Quality Assurance to ensure what goes (input) into production is of highest quality, be able to deliver the best final product (output), in the process eliminate any defects and ensure that the product reaches the customer in perfect condition and quality.
Secret of your success :
SJS started its journey from a 300 sq. ft. Garage and within 6-8 months we moved into 4,000 sq. ft area and then shifted to 15,000 sq. ft factory. Later we moved to a 100,000 sq. ft plant. And finally, we set up and move to a 2,25,000 sq. ft. new factory.
So, success does not come overnight. It requires constant efforts. And whenever needed we have tried to invest in state of the art machinery, equipment and all necessary tools. And of course investing in good plant and machinery is useless unless you invest in people, skill development and knowledge. We have to synchronise good machinery and good materials with good people to get quality output. I myself underwent training in USA and Europe. I have also visited many trade fairs abroad. These efforts have really paid off.
We are successful because we are well focused and reliable in terms of : Quality product, Competitive cost, Delivery commitment, backed by skilled manpower and their team work and dedication.
Tell us about SJS's Corporate Social Responsibility (CSR) activities :
SJS believes in giving back to the people and society. We want to be a good corporate citizen with the aim of supplementing the role of the Government in enhancing the welfare measures of the society within the framework of the CSR policy. I personally believe in 'Doing good to others', and giving back to the society is our motto. I believe in 'Thinking' of others' well-being.
So, we support in the form of donations to: Akshyapatra Foundation, Sri Shankara Cancer Hospital and Research Center, Sneha Dhan, (first Community Care Centre for PLHIVs in Karnataka), Schools in Rajasthan meant for children of Brick Kiln workers. We had also supported Cataract project involving 300-400 operations. Moreover, as a part of our Employee welfare measure, we have annual get-togethers. We take them to a resort to spend one full day. Sometimes I am also part of such get-togethers.