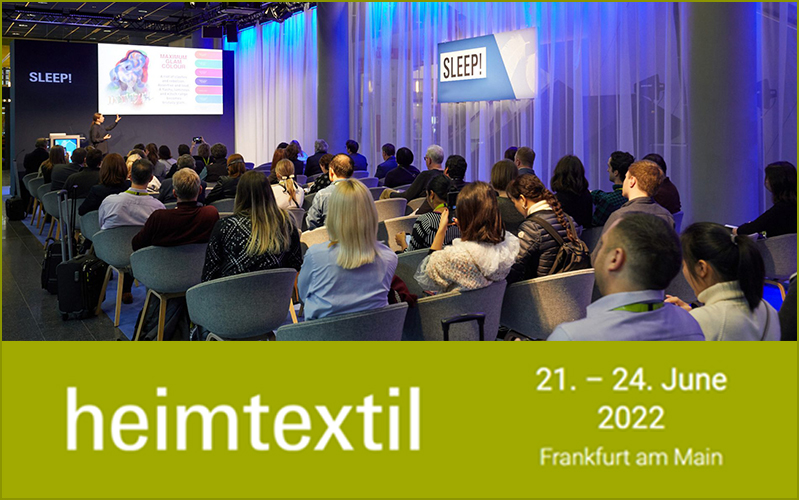 'Sleep & More' Conference at Heimtextil Expo (21-24 June 2022)
24 March 2022: What is the secret of good sleep ? And which textile furnishing solutions, sustainable materials and bedding contribute to the quality of sleep at home and in hotel rooms? From sleep myths and scientific facts on post-corona sleep to tracking technology, this summer renowned sleep experts will be providing decisive impetus at the Heimtextil Conference "Sleep & More" in Hall 3.0.
Numerous keynotes will highlight important issues in the green future of the hotel bed. The new concept format "Sleep & More" also provides valuable orientation for hotel industry decision-makers and sheds light on hospitality trends, particularly from the perspective of sustainability: How can mattresses be part of the circular economy ? And what will the sustainable hotel room of the future look like ? Hospitality and sustainability experts will pool the collective knowledge of the industry and provide visitors with inspiration and impetus for their future actions.
Sleep & More speaker setup includes:
– Markus Kamps, sleep consultant and founder of "Schlafkampagne," with insights into sleep myths and important help on the corona sleep effect
– Dr. Hans-Günther Wees from the German Society for Sleep Research and Sleep Medicine with the latest research findings
– Carsten Schmid from Brainlit with insights into the importance of biocentric lighting
– Jens Speil of MyCircul with the latest approaches to the use of tracking gadgets
– Sleep consultant Eva Bovet of Betten Raab and managing director Thaela Schlosser of Feder & Bettenfachgeschäft on the successful use of podcasts
– Bed expert Jens Rosenbaum with impulses on the sustainability potential of the hotel bed and green solutions from associations and industry
– Expert Julia von Klitzing from the Hotel Competence Center with reflections on the hospitality industry from the perspective of Generation Z
www.heimtextil.messefrankfurt.com