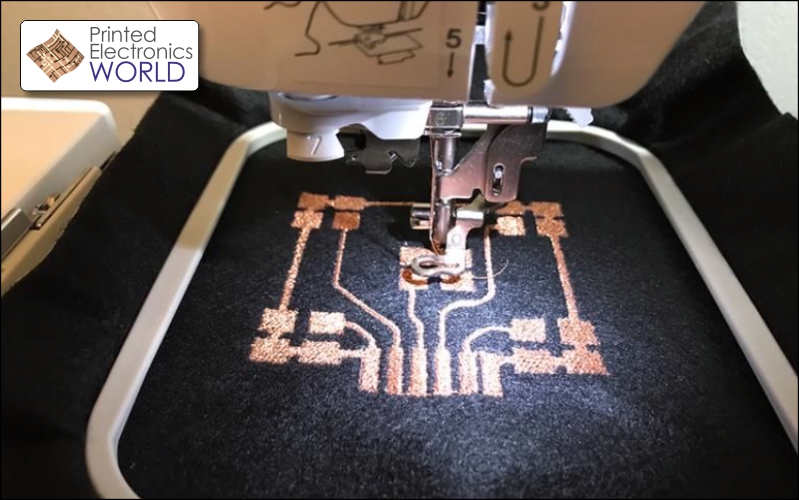 Smart Fabric Allows Users to Track Data Directly Through Clothing
11 May 2021: Nextiles, a textiles manufacturing startup backed by the National Science Foundation (NSF) and Massachusetts Institute of Technology (MIT), is launching into the sports and performance market to provide smart thread technology that captures biometric and biomechanics data. Nextiles was founded in 2018 while George Sun, a trained biological and electrical engineer, was finalizing his PhD in biomaterials at MIT. While attending MIT's Media Lab, Sun was recruited to lead the embedded engineering team at PUMA, with a focus on incorporating sensors into footwear. Through his work, he was inspired to recreate the sensor industry and provide a superior form factor by developing a now-patented technique to sew sensors directly into fabric.
Behind the science, Nextiles blends traditional sewing techniques with printed circuit boards to make flexible material with sensors embedded within fabrics, such as your everyday sportswear. Through its patent-protected manufacturing process, Nextiles' fabrics allow for complete biomechanic and biometric sensing captured on one platform – no straps, rings, wraps or clunky attachments that only capture partial data. Nextiles leverages the use of traditional sewing machines and commonly found threads, such as nylon or spandex. The threads used are semi-conductive, which measure mechanical changes from multiple data points. Nextiles differentiates its suite of data analytics by providing Newtonian measurements through its fabrics (force, bending, stretching, velocity, pressure) to offer athletes and teams data such as torque, power, fatigue, strain, and much more. The fabric captures traditional measurements as well by combining force data with IMU technology (direction, speed, distance). For further information see the IDTechEx report on E-textiles and Smart Clothing 2020-2030: Technologies, Markets and Players.
In 2020, Nextiles completed its seed round, which was led by its first investor, MIT. The remainder includes a diverse group of strategic individual investors who are senior executives ranging from multiple industries such as sports, media, retail, medicine, technology, finance and professional athletes. "We are extremely grateful to have welcomed several individual investors from diverse backgrounds with incredible experience and networks who all share our vision of a more connected future. The diversity of our cap table reflects the diversity of our technology and we look forward to innovating alongside current and future partners in a variety of business verticals," said John Peters, Chief Business Officer of Nextiles.
www.printedelectronicsworld.com