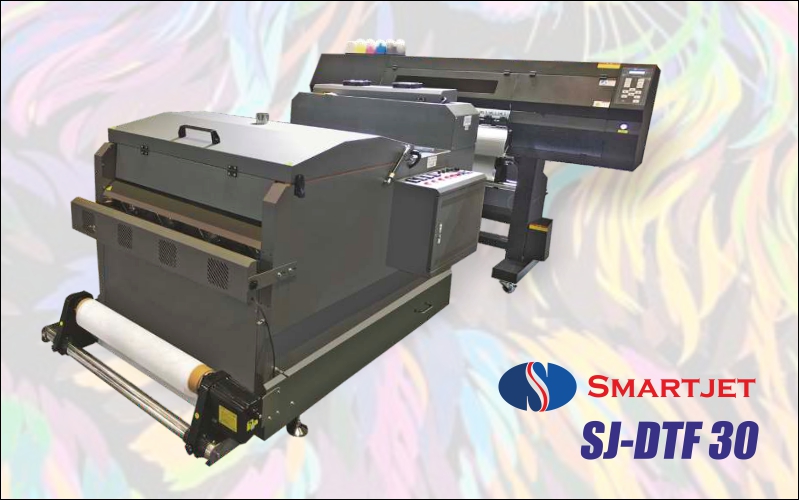 SmartJet SJ DTF 30 Digital Printer Added into J. N. Arora Group's Portfolio
25 November 2021: J. N. Arora & Co. (P) Ltd. a leading supplier of Screen, digital, textile and offset printing materials and machineries based in New Delhi has recently introduced SmartJet SJ DTF 30, a Direct-To-Film (DTF) Digital Printer.
With the launch, the J. N. Arora Group has added another new product to its expanding product portfolio. Aashish Arora, Group Director says "We plan to showcase our New Smart Jet SJ DTF 30 in forthcoming trade shows such as Screen Print India 2021 Expo which is taking place in New Delhi from 03-05 December 2021. The Smart Jet SJ DTF 30 Digital Printer is equipped with Dual i3200 Industrial Printheads for printing with pigment inks. Smart Jet SJ-DTF 30 can print with 360 x 1,800 dpi – 4 pass 17 m/h; 720 x 1,200 dpi – 6 pass 11.9 m/h and 720 x 1,800 dpi – 8 pass 6.8 m/h, as per the running meter/hour for 610 mm roll.
The DTF is fitted with a high-performance take-up device that can handle a variety of media. The carriage's anti-collision device safeguards the pint head. The DTF is fitted with Piezo-Electric Inkjet Printhead. It can take 760 mm (29.9") media with 1 mm thickness. The DTF printer can print max. 730 mm width (28.7"). Using pigment ink with continual ink supply system (220 ML).
J. N. Arora also provides Media Heating System (Curing Machine) also known as Powder and Colour Fixing System (60 mm width).
"It is a GenNext Concept for Garment Decoration that has been introduced and as a dynamic group, we are always ready to introduce new technologies to our customers. With our Smart Jet DTF you can experiment with printing on transfer media to personalise T-Shirts and Garments. Although new entrepreneurs can explore this technology, the existing sublimation and screen printing service providers can also invest in this low cost technology and expand their print capabilities and generate additional revenue. We can produce vibrant colour heat transfers for both light and dark textiles using Smart Jet DTF," says Aashish Arora.
"Compared to traditional transfer methods, print-on-demand can provide the lowest setup cost and time. At a time when there is a growing demand for personalised products, we are confident that our new SmartJet DTF will play a significant role in assisting print businesses in accessing important revenue opportunities," he further adds.
aashisharora@jnarora.com / 98106 28231 acearora@jnarora.com / 98994 97597