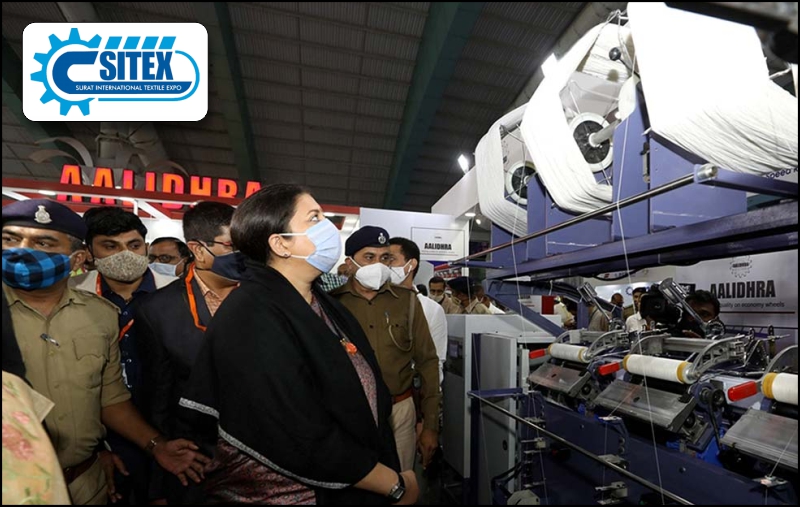 Smriti Irani inaugurates SITEX Surat, the New Year's first textile expo
14 January 2021: Minister of Textile Smriti Irani inaugurated SITEX expo, India's first textile technology expo in the New Year 2021, at the Surat International Exhibition and Convention Centre on 9th January 2021. The show was organized by the Southern Gujarat Chamber Of Commerce and Industry (SGCCI) and Southern Gujarat Chamber Trade and Industries Development Centre. SGCCI President Dinesh Navadia and Vice-President Ashish Gujarati submitted demands made by the textile industry to the Minister.
Speaking at the inaugural function, Smriti Irani said that Technical textile is like sunrise industry. The tag of the sunrise industry is given to those industries whose gestation and turn around period is long. The production of N-95 masks and PPE suits is one of the biggest examples of that. She said that there was not a single company to manufacture PPE suits, and today over 1,100 companies are doing business of Rs.7,500 crore in the PPE related area.
"It was the first such exhibition to be conducted since the Covid-19 outbreak. The show had over 110 participating exhibitors across the entire textile value chain including six players from the digital textile/sublimation printing machinery and inks," said Ashish Gujarati, adding that the domination of China in textiles, Surat is also rising owing to the variety of products and innovation being offered by Textile sector which is adopting digital textile and sublimation printing in a big way.
Prominent exhibitors printing sector displayed their 'first' high speed sublimation and textile printers coupled high quality paper and inks. These include Sarjan International, DCC Print LLP, Shradhdha Technologies, IML Group, True Colour Group, Shreeji Impex/A.T. Inks, Mexum Digital Technologies. During the interaction, most of these exhibitors said that they have received many confirmed bookings besides lot enquiries for various machinery which itself shows that Surat textile industry is rising amid the pandemic. The exhibitors gained immense confidence by the huge footfall of visitors despite all apprehension about the pandemic.
In the SITEX expo, in the digital textile printing segment, joint venture participation was prevalent and there was no single product/single brand exhibitor. For e.g. Shreeji Impex joined hands with A.T. Inks to showcase dye sublimation paper and new addition inks, respectively and the new participant. Likewise, True Colour Group showcased sublimation ink range from Jade Digital Inks, in addition to announcing launch of HP sublimation printer and Konica Minolta inkjet textile printers to Surat market. Likewise, IML Group had prominently displayed their collaboration with Jade Digital Inks in addition to product offering from various leading brands. DCC demonstrated UNQ sublimation printer and Epson sublimation printer.