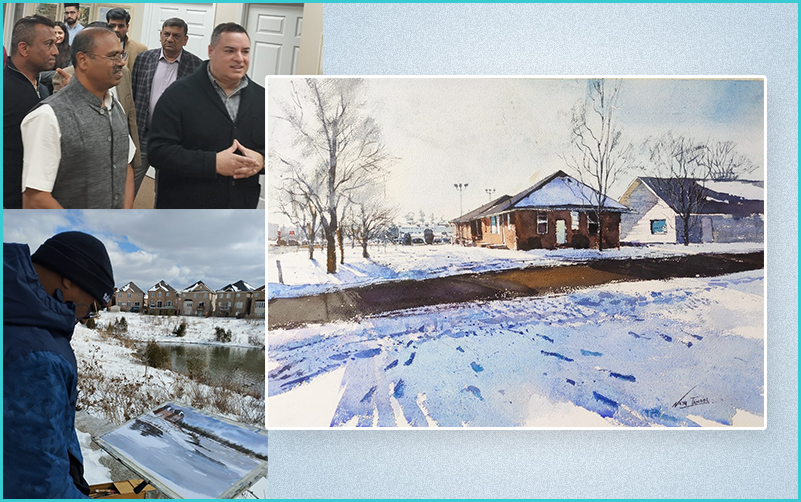 Solo Show of Paintings by Natu Tandel held at Canada
15 March 2023: Natu Tandel, the founder of Shanti Graphics Design & Printing, Surat, is also a leading artist with many solo painting exhibitions held all over India. Recently, a solo show of his paintings, 'Reflected Light Waves' was held on March 11, 2023 at Humans for Harmony, Brampton, Ontario, Canada. The art exhibition was supported by Gujarat State Lalitkala Academy.
The inauguration was done by Kamal Khera, Member of Parliament, Brampton West; the occasion also witnessed the presence of leading dignitaries including Chief Guests Partick Brown, Mayor of Brampton and Amarjot Sandhu, MPP Brampton West, along with Guests of Honour Rakesh Patel, Chairman, Kuber Group; Don R. B. Patel, President, Humans for Harmony; Vimal Patel, Founder & CEO, Edventure Infotech and Gagan Chadha, Co-Founder, Arkos Art.
Shanti Graphics is a well-known commercial screen printer and manufacturer of water colour paintings and decorative items. The company has a strong track record of 28 years since its inception in 1995 by Natu Tandel, having been conferred with many noteworthy awards including the Gold at Screen Print India Award 2016 for stationery printing in the visiting cards category. Natu Tandel has also received awards from Artist Centre, Mumbai (2012) and National Art Camp at Vallabh Vidhyanagar (2012).
As a commercial screen print solution provider and as an artist, Natu Tandel ensures that he still has time for everything – fishing on the high seas, designing, art/painting and exhibition, travelling with a group of artists, professional development, etc. His wife, Urvashi, manages the printing unit.
Previously, Natu Tandel has showcased his serigraphy work and collection of his paintings at events such as Kala Mela, organised by Lalit Kala Akademi in February 2018 at Indira Gandhi National Center (IGNCA) for the Arts, New Delhi as well as solo painting exhibitions at Nehru Centre Art Gallery, at Jehangir Art Gallery in Mumbai and many other places. Media and art lovers, art critics, buyers and tourists visit his special exhibitions which are usually theme-based. He has mastered the art of water colour paintings. He engages in serigraphy, reproduction of his paintings to make multiple copies so that art lovers could buy his serigraphy since original paintings are costly.