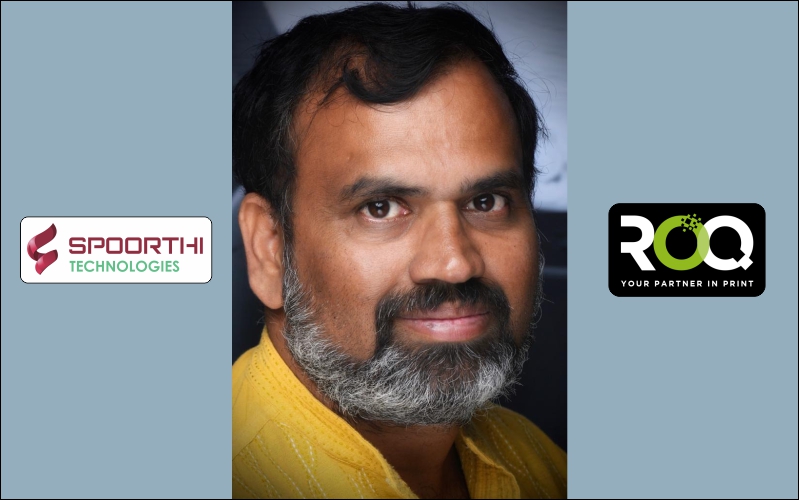 Spoorthi Technologies Celebrates 15 Year Bond with ROQ
07 July 2021: Spoorthi Technologies founded in 2006 is the brainchild of Ramesh Ganduri, a technocrat turned entrepreneur who understands the textile printing industry and technology inside out. He has a postgraduate degree in Textile Chemistry from the VJTI, Mumbai and has worked for reputed textile businesses and manufacturers such as Morarjee Gokuldas and Khatau Mills in the printing department.
Ramesh is among the few rare technologists to have worked extensively in multiple verticals, notably in the colour technology automation arena. Among the privileged companies for which he had served is Premier Color Scan Instruments, a job that required him to travel to more than 20 countries across the world. When they started there were 4 people working and today they have a staff of 25, most of them are technical persons who are always ready to stand by the clients at the time of crisis. Today, they have supplied over 500+ machines all over India (majorly in Tirupur). 80% of clients give repeat orders; this means the machines are very good and easy to operate, plus the 'after sales service' is very good as all clients are happy.
Spoorthi Technologies is the culmination of his experiences in printing technology. His experiences are relevant to the fast-growing knitted garment manufacturing industry of Tirupur. Spoorthi is an endeavour to deliver quality screen printing technology to the garment clusters of Tirupur through supply of most appropriate screen printing machineries and accessories at prices that are economical yet highly sophisticated.
Ramesh Ganduri affirms, It is our vision that the screen printing industry of India and more importantly the Tirupur cluster of knitted garment manufacturing will be able to grow by leaps and bounds to capture markets that have been evasive because of the limited skill sets of the screen printing industry here. Our machinery, technology, solutions and advisory will be a great fillip to what the industry lacks. We foresee those days in which our printing industry will walk hand in hand with the best around the world."
Providing the perfect screen printing solution to our customers is an obsession with us and it involves the whole cycle – apprising the customer, providing multiple solutions and options, assisting with selecting the right screen printing machines and accessories, maintaining the machine in spick and span condition and reaping the benefits of zero downtime for the machines.
Our team is dedicated to these objectives and are trained to execute it with clock-work precision. Behind our success as a quality vendor of screen printing machines are our highly qualified technicians and engineers who work relentlessly to ensure smooth sailing for our customers. More importantly our team of marketing personnel, sales and maintenance engineers undergo regular training at our principal's plant in Portugal to ensure that your printing shop has a smooth sailing to bring big profits for your enterprise.
www.spoorthitech.com