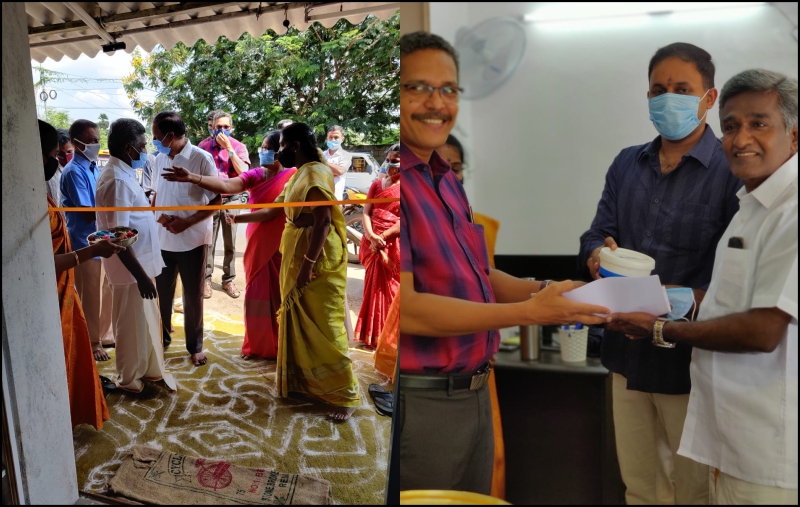 Sree Ram Dyes & Chemicals Group opens new branch on Mangalam Road, Tirupur
09 September 2020: Here is a positive indication that Tirupur Textile printing market is bouncing back. Sree Ram Dyes & Chemicals Group has opened their 3rd biz unit in Mangalam Road in Tirupur.
C. Sharavanan, the ever-smiling and enthusiastic entrepreneur in Tirupur, established his first textile printing material supply company in 1993 – Sree Ram Dyes & Chemicals, after gaining experience of working in a textile printing unit (1986 to 1993). The textile printing materials supply shop (8,000 sq.ft) made rapid progress which resulted in opening up of another business entity under the name Sree Ram Raj Dyes & Chemicals (10,000 sq.ft). The company's progress has been non-stop and recently they set up another business unit under the name Sree Bairavi Dyes & Chemicals (4,000 sq.ft). Suresh Babu of AB Screens, Tirupur was the first customer to buy inks from this new company.
All these units have independent offices and warehouses. The Group imports textile printing materials, inks and chemicals sourced from leading manufacturers from over six countries including Malaysia, Turkey, Singapore, etc. "The new unit was planned last year but due to Covid-19, we had to postpone its opening. Now that, post-Covid-19, the Tirupur market is returning to normal and thus we decided to open this new unit immediately," says Sharavanan.
"Usually, whenever we identify a new product, I and my son S. Chella, first go to the manufacturer whether it is Malaysia or Turkey and understand the product technology and its application and advantages. And we learn the application technique and back in India, we start promoting it. We do not blindly promote any product without first understanding and learning its application," he adds.
Sharavanan further informs "At the Sree Ram Raj Dyes & Chemicals unit we have a trial and training centre wherein customers can take a trial of the product and if needed they can send their staff for training. We have a manual screen printing machine for printing samples of new inks. We are growing strength by strength as we source quality materials for the quality conscious Tirupur market which is also conscious about the pricing. Additionally, we can offer them all technical support as well."