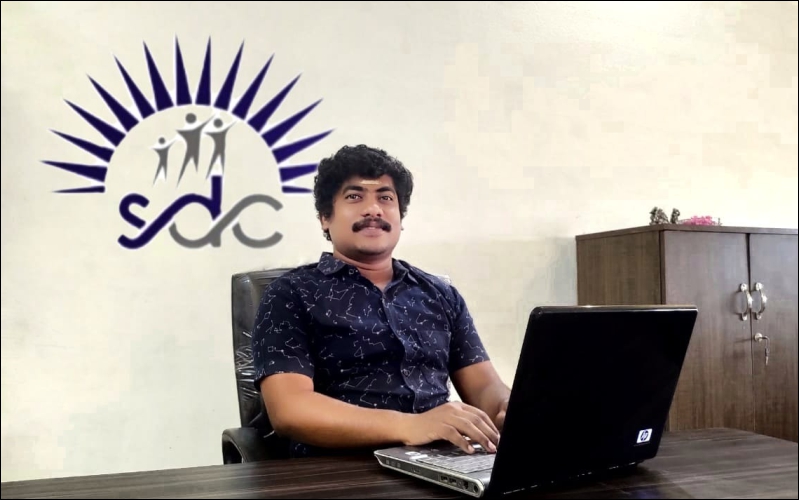 Sterling Dye Chem Opens New Outlet in Tirupur
31 January 2021: Sterling Dye Chem, a start-up firm engaged in the sourcing and supply of raw materials and machines for garment/textile printing have opened their new outlet in Tirupur. The new 500 sq.ft screen printing supply store located at Mangalam Road, Tirupur, was inaugurated on 4th December 2021. The company has their 3,500 sq.ft office-cum-warehouse at Maniam Kandasamy Nagar in Tirupur which was opened in July 2021.
Sterling Dye Chem was founded by Balakumar. He passed out from SSM College of Engineering in Tamil Nadu, with a Textile Technology Engineering degree in 2008. Interestingly, the entrepreneur, after a short job stint, started his textile printing business and wound it up and started a trading business in partnership.
Sterling Dye Chem founder says that his company is not a mere raw material supplier. "We are a complete solution provider to garment printers. The practical experience in textile screen printing is coming in handy now. Because there are so many raw material suppliers, the prices and quality may vary. But the Tirupur textile printing market is interested to deal with suppliers who are knowledgeable and help printers in solving their printing problems. I have had a decade's experience in raw material trading after 2 years basic experience in textile printing," says Balakumar, adding, "Our company's USP is that we offer special and innovative products, backed by technical support to customers. I have a technical qualification in textile chemistry and practical knowledge in textile printing and this is the twin advantage to customers."
Sterling Dye Chem offers special products. These include Thermochromic inks, photochromic inks, hydrochromic inks, aroma inks, reflective, radium powder, imported glitter and foil papers, etc. The company offer a wide range of Silicone inks for different types of woven fabric, knitted garments; Silicone coatings for Technical textile, Anti-slip silicone for socks, gloves and home textile.
The Company is a distributor of Chemical Brothers for (for silicone inks), Aquasol (for water-based inks), FiberChem (textile inks), Indian Chemical Industries (pigments), Flexkon (oil-based non-PVC inks) and MagnaColours.
On the other hand, Sterling Dye Chem's sister concern Tharshikkan Exports is an importer of textile machinery. These include a Normal embossing machine, textile screen printing machinery range (oval, carousal), textile silicone label making machine, Textile silicon embossing machine.
As the Covid-19 pandemic is being somewhat controlled, Balakumar is hopeful of gaining momentum in his new business. "If everything is in 'good order' in the export market, Tirupur gets good orders. Any ups and downs in the US and Europe markets affect businesses in Tirupur. Now that most of our customers are delighted as a lot of orders are coming and they are now busy in sample development.
He concludes "Although during Covid-19 pandemic, it was risky to venture into new business such as raw material supply, we started with self-confidence, we were positive that humanity will win over the pandemic situation and markets will bounce back. Having said that, we did not get into stereotype products, rather we decided to go for unique products offerings and speciality products. We do not just sell products, we share knowledge and offer technical guidance to our customers and that is the way to stand out in the market."
sterlingdyechemm@gmail.com