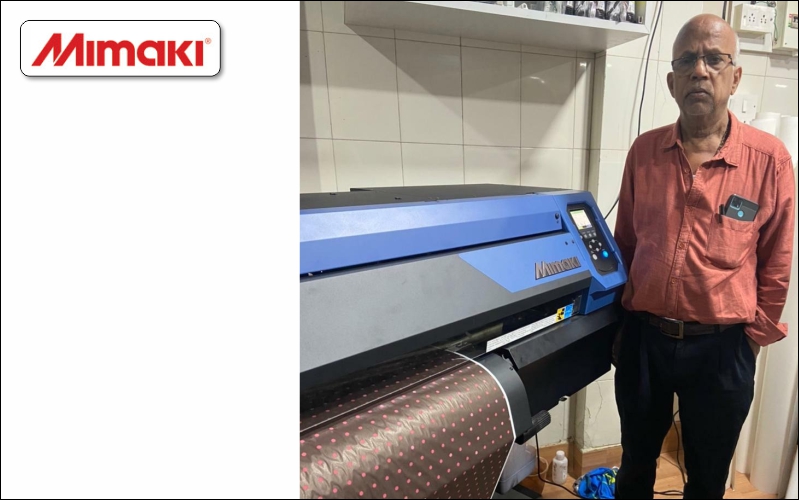 Suyog Sublimation of Mumbai Adds Mimaki TS 100-1600 Dye-Sublimation Printer
13 January 2022: Insight Print Communication installs TS 100-1600 dye sublimation transfer printer at Suyog Sublimation, Mumbai. Textile industry has been worst hit due to pandemic and back to back installation of Mimaki Printers reflects customer's belief and trust in the technology. Suyog sublimation is the renowned name in the sports apparel and sublimation industry and known for its quality printing and consistency. Suyog Sublimation founded by Vasant Bherd since 25 years and he has expertise in many technologies. Vasant has been responsible for company's success and zest towards innovation.
64 inches wide roll-to-roll sublimation inkjet printer TS100-1600 is a dedicated transfer paper printer for the textile print industry. Perfectly suited to the creation of fashion, apparel, sportswear, furnishings, etc. TS100-1600 uses state-of-the-art technology to set new performance benchmarks for the sector. Officially the maximum speed is 70m2/hr. This machine is compatible with Raster Link 7 which speed up the RIP processing by 25% as compared to previous version and enables variable data printing where as another compatible software Tx Link 4 gives much smoother gradation expression with 16 bit rendering and color replacement function as compared to previous software Tx Link 3.
Cockling is well known to reduce product yield and quality, and frequently occurs on transfer papers during printing. With its cockling-reduction transfer mechanism and new printhead, the TS100-1600 can print on cockled papers with a high head gap setting while maintaining beautiful print quality. Cockling reduction media transfer mechanism comprises of vaccum hold down system beneath the platen and AMF (Auto Media Feeder) which further reduces cockling.
"Mimaki's cutting edge technology and Insight's constant commitment towards innovation, customer service and application development helps textile producers to meet the dynamic needs and demand of today's consumers. I am tech enthusiast and I've believed in innovation from the beginning, my search for a partner who could help us to achieve outstanding results with strong service support ended with Insight." Commented Vasant Bherd Founder and Director at Suyog Sublimation.
The TS100-1600 fully supports continuous printing with steady technologies NCU automatically detects and recovers clogged nozzles, If the clogged nozzles are not recovered after cleaning through the NCU function, the NRS selects substitute nozzles and then restarts printing maintaining productivity. With all these features we can vouch for stable productivity which is need of an hour." Adds Raja Kochhar, General Manager at Insight Print Communication.
www.insightwithin.com