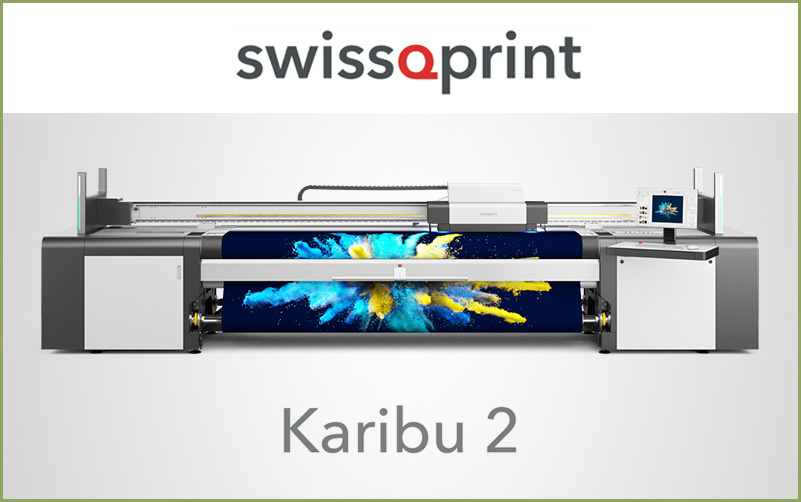 swissQprint Launches 'Karibu 2' the 2nd Gen Roll to Roll Printer at Printing United 2022 Expo
26 October 2022: swissQprint launched 'Karibu,' the second generation roll to roll digital printer at the Printing United Show in Las Vegas, USA. Karibu 2, the dedicated roll to roll printer from swissQprint, uses the latest print head technology, with an output of 1350 dpi resolution. As stated by the company, the machine accommodates rolls up to 133 inch wide and prints using UV inks that are flexible, NVC-free and Greenguard Gold certified.
The printer is fitted with a cassette system, and rolls are loaded and ready to print within minutes. A dual roll option capable of handling two rolls each up to 64 inch wide will be offered with the machine. The roll holders are split into two sections with each half of the shaft driven individually to ensure optimum web tension and perfect results on both rolls.
The Karibu vacuum plate is divided into 136 individually operable segments. Within four seconds, the vacuum can be selectively adjusted, whatever the roll width. Hence there can be no air leakage, even through the space between dual rolls."Karibu features a Light Box right next to the printing area, for immediate and continuous quality control of backlit prints. A Mesh Kit is also integrated right next to the Light Box. A mouse click by the operator sends the beam from its standard position to the mesh position. Printing can then start immediately.
For media that needs to be printed front and back the machine comes with an automatic double-sided printing function. Karibu controls the process with the help of an integrated high-resolution camera system and QR codes printed next to the image. Moreover, Lory, the intuitive output software, guides operators through the process – so they have less work (and less thinking) to do, and the risk of errors is minimal.
"We took these proven and popular features from the first generation and have now augmented them with the latest print head technology", says Carmen Eicher, Chief of Sales and Marketing Officer.
www.swissqprint.com