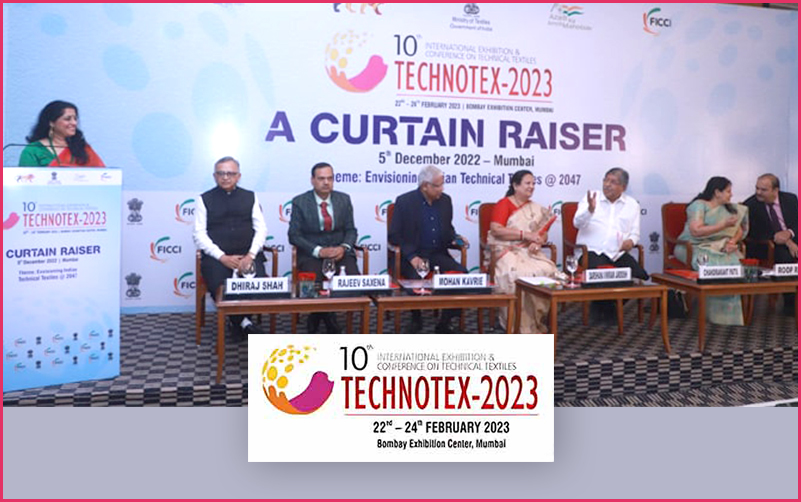 Technotex 2023 to take place on Feb 22-24, 2023 in Mumbai
10 December 2022: Technical textiles are high performance textiles which find application not only in clothing but in areas such as agriculture, medical, infrastructure development, automotive, aerospace, sports, protective clothing, packaging etc. Technical Textiles have seen an upward trend globally in the recent years due to improving economic conditions.
Against this background, the Ministry of Textiles, Govt. India, in association with Federation of Indian Chambers of Commerce and Industry (FICCI) is organizing the 10th Edition of 'Technotex 2023' on 22-24 February 2023 in Bombay Exhibition Centre, Mumbai.
Technotex is one of the largest composite events of Technical Textile industry of the Asia-Pacific region. The 2022 edition of Technotex India held in Mumbai exemplified the immense potential for bilateral trade, investment between India and foreign countries in Technical Textile sector in a mutually beneficial way. The event witnessed overwhelming participation from 34+ Countries namely Azerbaijan, Bahrain, Bangladesh, Belarus, Cambodia, Columbia, Czech Republic, Ethiopia, France, Germany, Ghana, Indonesia, Iran, Israel, Japan, Kazakhstan, Kenya, Kyrgyzstan, Nigeria, Poland, Russia, Senegal, South Africa, Sri Lanka, Switzerland, Taiwan, Uganda, United Kingdom, USA, Uzbekistan, Vietnam and Zambia and hosted focused country pavilions from China and South Korea respectively.
Building on the success of 2022 edition, the Technotex 2023 will be organised in February 2023 in Mumbai. This mega event will attract participation of all major stakeholders from Global Technical Textiles fraternity as well as institutional buyers from Army, Navy, Air Force, CISF, CRPF, Paramilitary Forces, Police, Hospitals, BRO, Agriculture Institutions, CPWD, PWD, Municipality's, Sports Institution, and Others. The event will be also supported by all related Industry Associations.
www.technotexindia.in