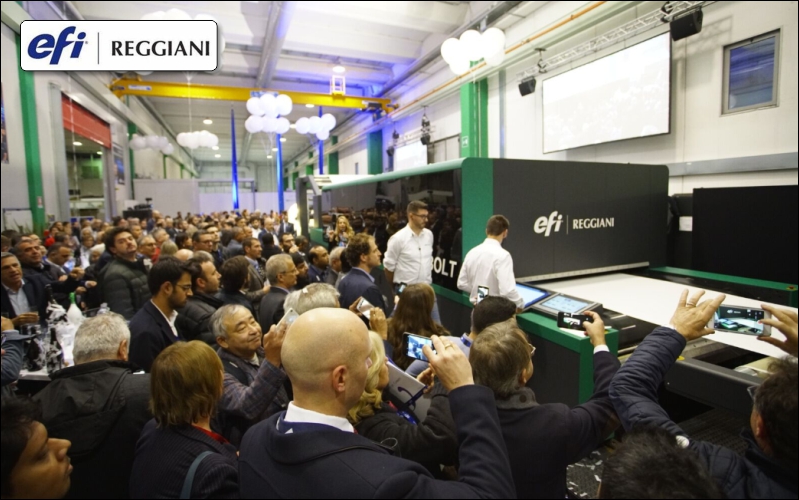 Textile Producers See Latest, Advanced Innovations in Digital Textile at EFI Reggiani Open House
04 January 2022: During the three-day Electronics For Imaging, Inc. open house in December 2021 at the company's EFI™ Reggiani industrial textile printer facility, textile and apparel manufacturers witnessed first-hand the market-leading innovations that provide users with promising new opportunities.
The Open House, drew 70+ attendees from over 23 different European, South American and Middle Eastern countries, featured informative sessions with product experts on a diverse range of topics, covering new and trending market applications for textile manufacturers.
"This was a special anniversary year for Reggiani, one where we not only looked back at our legacy, but also looked forward to the stronger, sustainable future we are helping our customers create in the textile space," said EFI Reggiani Senior Vice President and General Manager Adele Genoni. "With so many new products launched in 2021, we were excited to finally be able to have our customers here to see our machines in action."
This year, EFI Reggiani celebrated 75 years of heritage and innovation in the textile world by accelerating its commitment to delivering new cutting-edge technologies. EFI Reggiani offers world-class products that help customers increase the productivity and sustainability of their textile manufacturing activities. The extensive portfolio of EFI Reggiani printers – including an innovative range of greener, pigment ink-based systems that can significantly reduce textile manufacturing's ecological footprint – give users fast and complete solutions across a broad range of textile applications.
Attendees witnessed live demonstrations of eight advanced digital printers during the open house, including the new EFI Reggiani HYPER, EFI Reggiani TERRA Silver scanning/multi-pass printer, and EFI Reggiani BLAZE as well as the EFI Reggiani BOLT – the award-winning single-pass offering that is the world's fastest digital textile printer.
www.efi.com