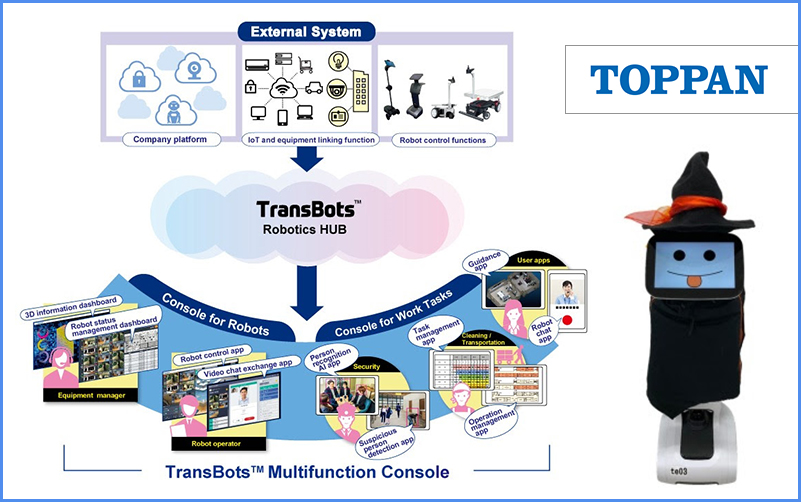 Toppan Develops AI System Enabling Multiple Robots to Recognize People
03 December 2022: Toppan, a global leader in communication, security, packaging, décor materials and electronics solutions, has developed TransBots™, a digital twin solution for linking physical spaces with virtual reality reconstructions in real time and centrally managing and controlling multiple types of service robots.
As a new function, Toppan has now developed an artificial intelligence (AI) system that makes it possible for multiple moving robots to identify people whose images have been uploaded in advance. This person recognition function has been verified via a pilot test in which images sent from robots in various locations within an event space were analyzed and compiled in the cloud using an AI engine. It was possible to identify specific people from camera images sent by various types of robots and to perform cloud-based confirmation.
Toppan aims to contribute to a fulfilling and sustainable society by employing TransBots™ and other solutions driving the application of digital twins in diverse fields, such as security, customer analysis, guidance, transportation and cleaning. Going forward, Toppan intends to help alleviate labor shortages and transform work styles by strengthening collaboration with robot manufacturers, enhancing the multifunction console for service robots and TransBots™ and enabling multiple use cases.
An ageing society and declining birthrate in Japan are contributing to labor shortages, which are becoming severe in security, cleaning, and other areas of the facility management industry. Robots and IT are seen as part of the solution, and robots specialized for tasks such as reception work and cleaning are being introduced. Robot management, however, is complex because multiple different types need to be controlled.
www.toppan.com