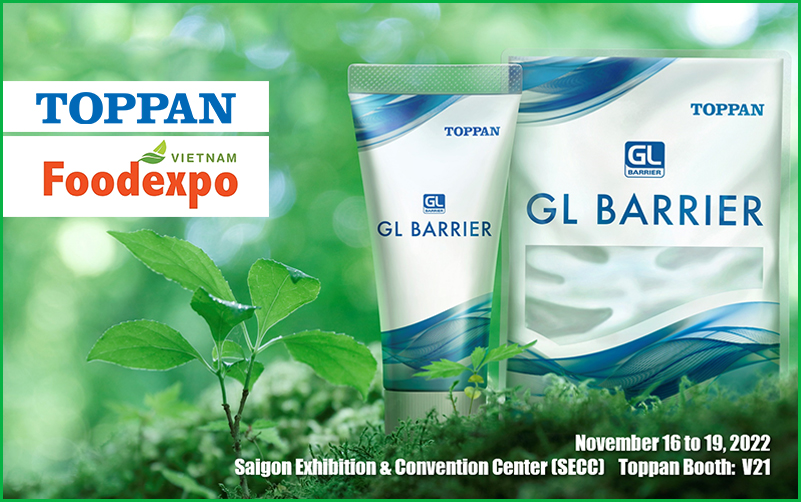 Toppan to Participate in VIETNAM Foodexpo 2022
14 November 2022: Toppan, a global leader in communication, security, packaging, décor materials and electronics solutions, will participate in VIETNAM Foodexpo 2022, which will be held at the Saigon Exhibition & Convention Center in Ho Chi Minh City from 16-19 November 2022.
Launched in 2015, VIETNAM Foodexpo is Vietnam's largest food industry exhibition. It is organized by the Vietnam Trade Promotion Agency and aims to promote the food industry and strengthen international networks. The event was held every year between 2015 and 2019, but 2022 will be the first exhibition for three years after being suspended in 2020 and 2021 due to the COVID-19 pandemic.
Toppan will present the Toppan Group's sustainable packaging supply capabilities, barrier packaging, including GL BARRIER,1 and other solutions to food producers, other end users, and packaging manufacturers from Vietnam and Southeast Asia.
"Due to demographics and economic growth in Vietnam and other Southeast Asian countries, we anticipate significant demand in the future for GL BARRIER, transparent high barrier films, and sustainable packaging that uses those films," said Shinichi Kukita, Senior General Manager of Toppan's Global Packaging business. "By building on our extensive converting experience and leveraging packaging development capabilities centered on the comprehensive range of GL BARRIER brand products, which enjoy a leading share of the global market, Toppan wants to be the best partner of customers in the Vietnam market, meeting all their packaging needs."
In the Toppan booth:
– Functional and sustainable packaging using GL BARRIER
In addition to GL FILM, a transparent barrier film that boasts an extensive track record of use and a leading share of the global market, Toppan will showcase an array of functional packaging, including microwaveable packages. The booth will also display highly recyclable mono-material packaging and other sustainable solutions.
– International network
Toppan will present its global network of locations for packaging development, manufacturing, and sales, including its three GL BARRIER manufacturing and supply bases in two countries. The booth will also showcase the range of high-quality, optimal sustainable packaging and varied other solutions that can be supplied to customers throughout the world from Toppan's various bases.
www.toppan.co.jp