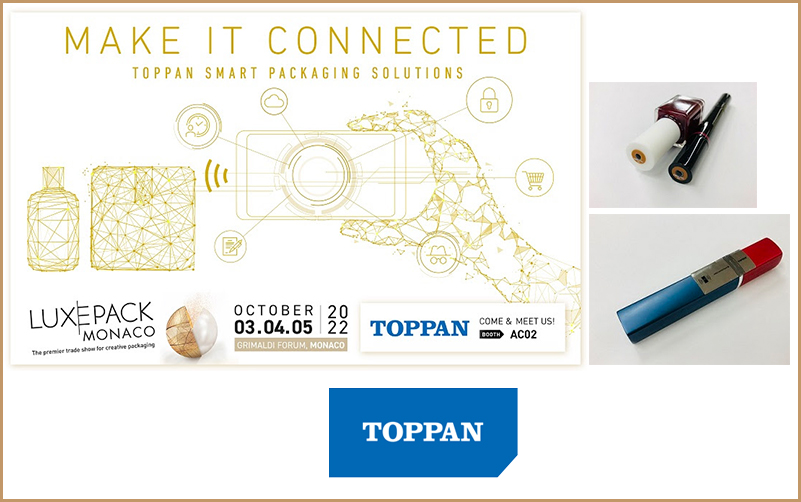 Toppan to Present Latest Smart Packaging Solutions at Luxe Pack Monaco
30 September 2022: Toppan, a global leader in communication, security, packaging, décor materials and electronics solutions, and Toppan Europe GmbH (Toppan Europe) will participate in Luxe Pack Monaco 2022, the premier trade show for creative packaging, from October 3 to 5.
Against the backdrop of the rapid digital shift in consumer behavior prompted in part by the COVID-19 pandemic, smart packaging solutions are receiving considerable attention in the luxury industry, including the cosmetics and high-end wine and spirits sectors. This is not just in recognition of the advantages smart packages offer for ID management and product authenticity verification, but also of their effectiveness as a tool for interactive communication with customers.
However, many high-end cosmetics products are sold in small containers holding no more than 100 ml. The associated constraints on tag size and design when equipping such containers with NFC tags and other ID devices have presented an obstacle to more widespread adoption.
Another challenge is that metal materials are often used for the containers and packaging of cosmetics and luxury items to convey a sense of high-quality commensurate with the product. Metal, however, can negatively impact communication performance for NFC tags.
Responding to brands wanting to address these issues, Toppan has leveraged extensive experience and expertise in the field to expand its lineup of NFC tag products. At Luxe Pack Monaco, Toppan will showcase high-performance NFC tags that can be attached to small or metallic containers as well as comprehensive smart packaging solutions that fully leverage the advantages of the tags in combination with a back-end, cloud-based ID authentication platform.
Visitors to the Toppan booth will be able to experience the latest security solutions for smart packages via demos covering customer touchpoint creation and supply chain management.
https://www.toppan.com/event/Toppan_Smart_Packaging_Solutions.html