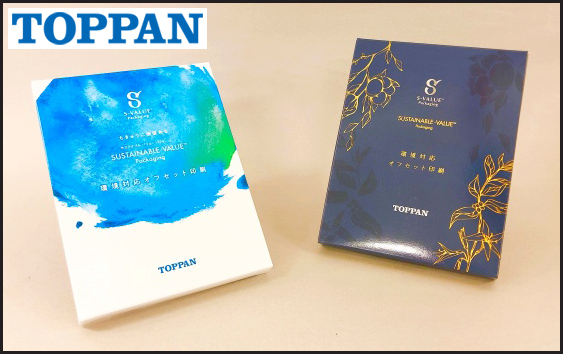 Toppan's ECOLUSTER Reduces Manufacturing Time for Offset Printing
11 March 2021: Toppan Printing (Toppan), a global leader in communication, security, packaging, décor materials and electronics solutions, has developed a more eco-friendly manufacturing method for offset printing that combines oil-based biomass ink with water-based varnish. ECOLUSTER is an addition to Toppan's "SUSTAINABLE-VALUE™ Packaging" lineup, which is part of the recently launched "TOPPAN S-VALUE™ Packaging" range targeting added value for society and fulfilling living.
Oil-based inks used in offset printing are known for their broad spectrum and excellent reproduction of colors. However, oil-based printing has until now entailed long lead times and lower productivity, meaning that fast-drying UV offset printing is widely adopted as it can significantly reduce timeframes for manufacturing. To address this, Toppan has developed ECOLUSTER by leveraging new materials and manufacturing methodology and combining oil-based biomass ink with water-based varnish.
ECOLUSTER enables productivity significantly greater than that of conventional oil-based printing and manufacturing lead times equivalent to those of UV printing used extensively for folding cartons. The use of plant-derived material and the absence of UV lamps make it possible to reduce CO2 emissions associated with raw ink materials and the printing process by roughly 34% compared with general UV offset printing. In addition, because ink other than metallic ink uses oil-based biomass material, marks for biomass and plant-derived inks can be displayed on products. ECOLUSTER also achieves reproduction quality and properties equivalent to those of UV sheet-fed printing by offering the outstanding colors of oil-based inks as well as smooth ink surfaces, friction resistance, and the same gloss look without using UV curing materials.
ECOLUSTER was on display in the Toppan Booth at Tokyo Pack 2021, which was held at the Tokyo Big Sight Exhibition Center from 24-26 February 2021.
www.toppan.co.jp/living-industry/packaging/english/sustainability/