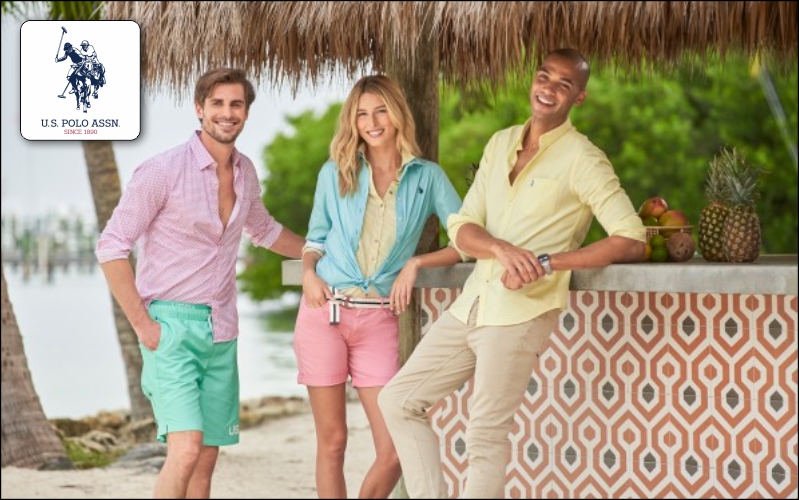 U.S. Polo Assn. Launches Global Spring 2021 Collection
09 April 2021: U.S. Polo Assn., the official brand of the United States Polo Association (USPA), has launched its iconic, sport-inspired Spring Collection for 2021 and foresees brighter days to come. Coming out of a challenging year for so many, we spring into color this season with light and fresh pastel hues, florals, stripes and dip dyes with a dose of sustainable denim. These sporty, spirited looks can be seen in the images from U.S. Polo Assn.'s global photoshoot, which took place in sunny Key Largo, Florida, known for its clear waters, boating life and laid-back vibe.
In the Keys, pastel hues were layered and shot beside breezy palms, crystal waters and lush greenery. Our iconic red, white and blue stripes and color blocks paired perfectly as our models took flight on a local sea plane. The technical aspects of performance wear were featured in casual sportswear that has great stretch and breathability, ideal for multiple activities. Denim may have taken a backseat to athleisure wear in the pandemic, but for U.S. Polo Assn., great denim never goes out of style.
"We came into 2021 with renewed optimism, and our Spring 2021 Collection definitely gives off a positive, relaxed vibe, with its soft pastels and comfortable fabrics. And nothing says fun like the pops of color seen in our apparel and accessories," notes Brian Kaminer, SVP Brand & Product for U.S. Polo Assn.
"U.S. Polo Assn.'s Spring 2021 Collection is a nod to brighter days ahead, with our goal to make comfort cool and embrace our consumers' lifestyles around the world," said J. Michael Prince, President and CEO of USPA Global Licensing, which manages the global, multi-billion-dollar U.S. Polo Assn. brand. "We stayed true to our authentic, sport-inspired roots while creating apparel that embodies what's cheerful and bright about the new spring season."